This morning, Legal Aid Executive Director Eric Angel took a break from preparations for the 2018 Servant of Justice Awards Dinner to attend the 40 at 50 Judicial Pro Bono Recognition Breakfast. This annual event, hosted by the D.C. Circuit Judicial Conference Standing Committee on Pro Bono Legal Services, recognizes local law firms for outstanding leadership in pro bono service and promotes the aspirational goal of the Circuit's Judicial Conference that attorneys contribute at least 50 pro bono hours per year.  Eric is a member of the Standing Committee.
This year, Chief Judge Merrick B. Garland, Chief Judge Beryl A. Howell, Judge Amy Berman Jackson, and other federal judges honored 37 law firms at which at least 40% of all attorneys dedicated 50 or more hours in 2017 to providing free legal representation to individuals with limited financial resources or to charitable organizations. This is a record number of law firms at this level. In his remarks, Chief Judge Garland said that commitment to the underserved reflects the "highest tradition of our profession." Chief Judge Howell noted that these firms' pro bono service reflects the deeply-held view that certainly resonates with Legal Aid that "money should never be a barrier to justice."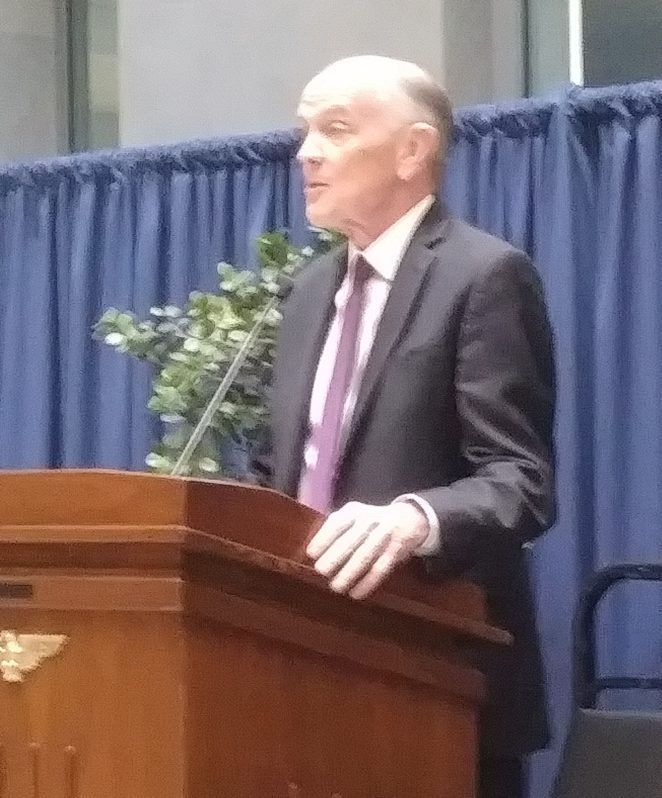 Sixteen of the 37 firms honored this morning had 50% or more of their attorneys contribute at least 50 hours of pro bono service in 2017, including Latham & Watkins. Tonight, Legal Aid will present Latham & Watkin's partner Abid Qureshi with the Servant of Justice Award. Abid served as Global Chair of Latham's Pro Bono Committee for six years and recently completed his term in March 2018.
Chair of the Standing Committee Jim Sandman ended the brief ceremony with various thank yous and a plea for the 40 at 50 firms: to always "pay special attention to the needs of our neighbors in the District of Columbia."
Jim thought that he was to end the ceremony, but then Chief Judge Garland surprised Jim with a special plaque commemorating Jim's extraordinary service to the bench and the community as head of the D.C. Circuit Conference Standing Committee on Pro Bono Legal Services. Chief Judge Garland described Jim as a member of the inaugural "100 at 100" club – someone who devotes 100% of his or her time to amazing public service! Judge Jackson gave further congratulations to Jim, by noting that Jim's fellow members of the Standing Committee have made donations in Jim's honor to two causes near and dear to his heart: the D.C. Access to Justice Commission, on which Jim serves, and the Legal Services Corporation, of which Jim is President.
We are delighted to congratulate all of the 40 at 50 firms and also especially Jim Sandman, who will be attending tonight's Servant of Justice Awards Dinner as he does nearly every year. Congratulations!
*****
If your law firm is interested in learning more about pro bono opportunities with Legal Aid, please contact Jodi Feldman or Sylvia Soltis. We have ample opportunities for lawyers at your firm to help make justice real for the most vulnerable in our community.