The Legal Aid Society of the District of Columbia is pleased to announce that we will be honoring Abid Riaz Qureshi with the Servant of Justice Award at the 29th Annual Servant of Justice Awards Dinner taking place on April 24th.
Abid is a partner in Latham & Watkins' Litigation & Trial Department in the Washington, D.C. office. He served as Global Chair of Latham's Pro Bono Committee for six years and recently completed his term in March 2018. In September 2016, President Obama nominated Abid to serve on the U.S. District Court for the District of Columbia, making him the first Muslim American to be nominated to be a federal judge.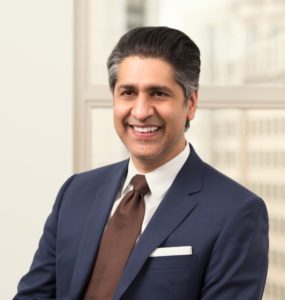 Under Abid's leadership, Latham has grown its pro bono commitment to provide more than 200,000 hours of free legal services annually - nearly 100 hours per lawyer in the U.S. alone. Latham attorneys volunteer some 2,000 hours each year with Legal Aid, including through the Housing Right to Counsel Project, in which Latham lawyers defend tenants who are threatened by eviction. Latham is currently sponsoring an Equal Justice Works fellowship at Legal Aid focused on the intersection between housing and domestic violence.
Abid's personal pro bono victories include litigating an important First Amendment case that allowed a Muslim-American film production company to display its comedic ads on the NYC subway system; challenging conditions of prolonged solitary confinement for a client on Virginia's death row; and securing a victory for foreign-educated physical therapists who were previously barred from seeking licensure in the U.S. simply because of where they received their education.
Wendy Atrokhov, Public Service Counsel and Director of Global Pro Bono at Latham, called Abid a "beloved role model for all who have the pleasure of working with him." He has been recognized internally more than a dozen times as among Latham's "best supervisors."
The Servant of Justice Award recognizes individuals or organizations who have demonstrated faithful dedication and remarkable achievement in ensuring that all persons have equal and meaningful access to justice. Past honorees include Vanita Gupta, President and CEO of the Leadership Conference on Civil and Human Rights; Donald B. Verrilli, Jr., former Solicitor General; Marian Wright Edelman, Founder of the Children's Defense Fund; Seth Waxman, former Solicitor General; and Eric H. Holder, Jr., former Attorney General.
Both individual tickets to the April 24th Dinner, as well as full tables, are still available. Please click here to buy tickets or reach out to Rob Pergament, Director of Development, at rpergament@legalaiddc.org for information about tables.