Chinh Le, Legal Aid's Legal Director for the past seven years, was recognized by the Asian Pacific American Bar Association Educational Fund (AEF) last night with its Community Service Award, which recognizes the work of an organization or individual who has tirelessly served the Asian Pacific American community in the greater Washington, DC area.
"Thank you to AEF and all of you for this honor," Chinh told the nearly 200 attendees. "I don't deserve it, but I'll do what I can to earn it."
In his remarks, Chinh recounted his powerful personal history, from his childhood as a refugee emigrating from Vietnam in the 1970s to joining Legal Aid in what he called his "dream job."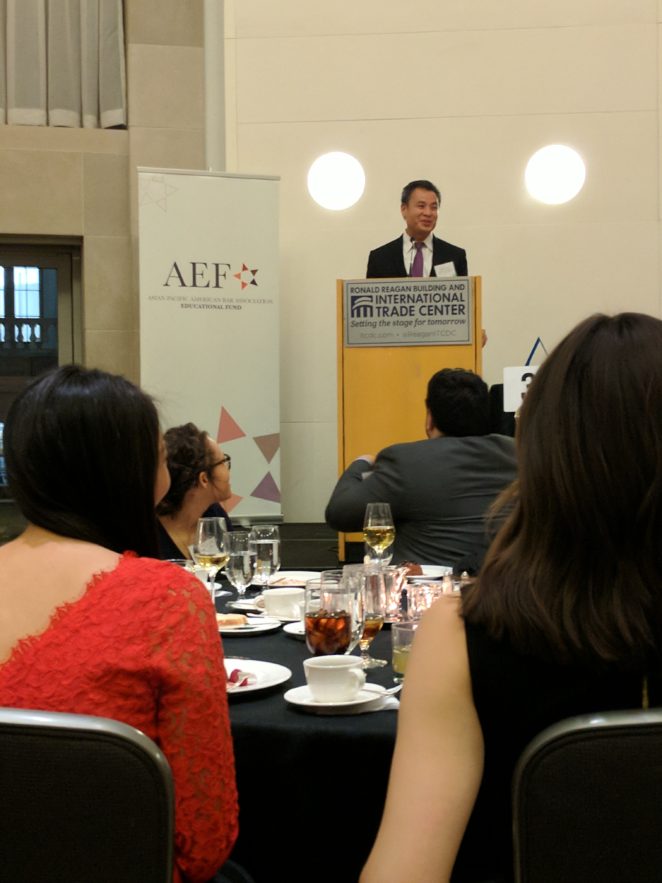 "I could not imagine doing anything else at this moment, especially at this historic time," he said.
In one of the most moving parts of his speech, Chinh talked about his experience working with the tenants at Museum Square, where residents successfully defeated a proposed sale of their building that would have led to their eviction.
"My heart is warmed to see a roomful of monolingual, elderly Chinese immigrants working side-by-side with their African-American neighbors, each getting each other's back, propping each other up, fighting for a better future for each other and for their children and families," Chinh said. "If my work in legal services has taught me anything, it is that being the one to stand up for your rights can require an awe-inspiring level of courage and resilience. Our clients are showing us every day how to be better advocates for what matters in the world."
Jim Rowader, Target's Vice President & General Counsel for Employee and Labor Relations, also spoke, and ABC7's Nancy Chen served as master of ceremonies for the evening.
AEF was created by the Asian Pacific American Bar Association of DC to grant fellowships to law students and to engage in other educational activities related to the legal profession and the Asian Pacific American community. The main purpose of the fellowships is to allow law students to accept summer internship positions with public interest or government organization that benefits either the Asian Pacific American community or the metropolitan Washington community-at-large. Last night's Annual Benefit Dinner, sponsored by WilmerHale, Epstein Becker & Green, Ropes & Gray, and more than a dozen other firms, is one of the primary sources of funding for AEF.