Today Legal Aid is presenting its Making Justice Real Pro Bono Award to Kelly Voss, Pro Bono Counsel at Covington & Burling. The Making Justice Real Pro Bono Award recognizes attorneys who have provided outstanding pro bono service through individual representation and/or leadership in facilitating such representation by their colleagues.
Kelly Voss directs Covington's pro bono program, facilitating meaningful pro bono engagement by her colleagues and collaborating with nonprofit organizations to find innovative ways to connect the firm's resources to important needs in our local and global communities. Covington's Washington, DC office has over 500 lawyers and a strong history of giving back.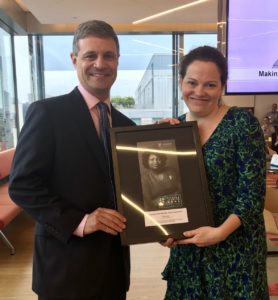 Over the years, Kelly has played a significant role in making Covington one of Legal Aid's most active pro bono partners. Under Kelly's engaged leadership, Covington has become a leading firm in the citywide Housing Right to Counsel Project. A number of Covington attorneys have been involved in the Project and have helped many low-income DC tenants avoid unnecessary eviction and the terrible repercussions that could follow. In addition, through her role as a representative of the DC Chapter of the Association of Pro Bono Counsel, Kelly was instrumental in helping us kick off the Social Security Project for Effective and Efficient Determinations (known as the "SPEED Project") – a collaborative initiative aimed at increasing pro bono representation for low-income individuals who are disabled, unable to work, and need help securing Social Security disability benefits. Kelly coordinates
Covington's pro bono participation in both projects.
Notably, Covington is one of Legal Aid's only pro bono firm partners that takes on cases in all four of our major practice areas – housing, family law, public benefits, and consumer law. This unique breadth of engagement can be heavily attributed to Kelly's energetic involvement. We are grateful to have such a strong and well-rounded pro bono relationship with the firm.
Coming from a legal services background herself, Kelly is adept at bridging legal services needs with the right pro bono resources and paying attention to the details in between.  In facilitating pro bono case placements, Kelly finds attorneys who are a good match for the cases and ensures that attorneys are getting the support and supervision required to provide the highest quality of representation. She also understands how to address unique issues that may arise for clients who are living in poverty.
We are thrilled to have the opportunity to honor Kelly (and Covington) for helping to make justice real for our client community.