Legal Aid marked the incredible success of its 2009 Generous Associates Campaign by hosting a breakfast for the Co-Chairs and Coordinators from the various law firms that participated.  The atmosphere was incredibly upbeat as we celebrated the tremendous results of this summer's campaign that raised over $675,000.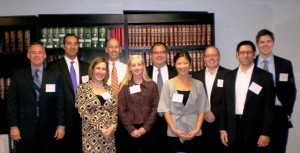 Gregg Kelley with Firm Coordinators (left to right) Dan Suleiman, Julie Hammerman, Derek Bottcher, B.J. Shannon, Howard Wolf-Rodda, Jennifer Ngai, Kevin Willen, Chris Gagne, and Patrick Byrnett
Legal Aid's Executive Director, Jonathan Smith, gave heartfelt remarks about how important the Generous Associates Campaign is to our ability to serve those living in poverty in the District of Columbia, encouraging everyone to be proud of their efforts.  Legal Aid Board of Trustee and Past-President, Phil Horton of Arnold & Porter LLP, provided an inspirational message to the crowd quoting from Robert Kennedy's famous address in 1966 at the University of Cape Town, South Africa:
"Each time a man stands up for an ideal, or acts to improve the lot of others, or strikes out against injustice, he sends forth a tiny ripple of hope, and crossing each other from a million different centers of energy and daring, those ripples build a current which can sweep down the mightiest walls of oppression and resistance."
Thank you to everyone who participated in this year's Generous Associates Campaign – the Firm Coordinators, the Campaign Co-Chairs, and their colleagues and firms who gave so generously.  This incredible outpouring of support from the legal community never ceases to amaze us each year.  I know that I speak for my colleagues, the board, and most importantly, the clients we serve, when I say we are extremely grateful.