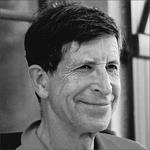 Ever since its founding in 1932, Legal Aid has relied on volunteer attorneys to expand its reach.  Some take pro bono cases or help out on intake. A rare few come into our offices to work side by side with our paid staff to help make justice real for our clients.
Roger Walter Langsdorf, who died peacefully on Friday, December 30, 2016, was for years a dedicated volunteer attorney at Legal Aid.  Matt Fraidin, now a professor at the University of the District of Columbia law school, remembers working with Roger at Legal Aid in the late 1990s.  "Roger set an example for all of us by his meticulous lawyering and unswerving decency and kindness."  He added: "I'm also fairly certain he never lost a disability benefits case!"
In addition to his lawyering skills, Roger was an extraordinary photographer of Legal Aid's client community.  Some of his powerful, black-and-white portraits are still at Legal Aid, decades later.
A Celebration of Roger's Life will be held at 3 p.m., on Saturday, January 28, 2017 at the Village of Friendship Heights Center, 4433 South Park Avenue, Chevy Chase, MD.  Please read his obituary here and here.
Our thoughts go out to Roger's family and friends.  His was certainly a life well lived.