"What do you find most compelling about defending tenants in eviction cases?"
Pro bono "masters" led an engaging discussion in response to this question and many others at the Housing Right to Counsel Project's first-ever Pro Bono Masters Panel held on June 29, 2017 at Skadden, Arps, Slate, Meagher & Flom LLP.
Pro bono volunteers are critical to the Housing Right to Counsel Project's goal of guaranteeing counsel to as many tenants as possible in eviction cases involving subsidized housing. The Housing Right to Counsel Project is a joint, citywide initiative run by Legal Aid, Bread for the City, Legal Counsel for the Elderly, and the D.C. Bar Pro Bono Center. Tenants who are represented by counsel through this Project are much more likely to avoid default judgments, contest their cases, and obtain favorable settlements. And they are more than six times less likely to face an imminent threat of eviction. There are currently over 140 pro bono attorneys from 14 law firms participating in the Project.
The Pro Bono Masters Panel provided a rare opportunity for cross-firm collaboration on this major pro bono initiative. Pro bono attorneys from several of the participating firms attended the event to pick up practice tips and hear insights directly from their peers.
The panel featured the following "master" pro bono attorneys, who are developing niche expertise in representing tenants in eviction cases:
John O'Connor, partner at Steptoe & Johnson LLP, helps lead the Housing Right to Counsel Project at Steptoe and has handled and supervised a number of eviction cases through the Project.
Daniele Schiffman, associate at Skadden, Arps, Slate, Meagher & Flom LLP, is a co-head of Skadden's Housing Impact Project and has handled and supervised a number of eviction cases. Daniele was recently recognized as the DC Bar's Laura N. Rinaldi Pro Bono Lawyer of the Year.
Melissa Weberman, associate at Arnold & Porter Kaye Scholer LLP, recently served as a loaned associate in Legal Aid's Housing Law Unit and has an active pro bono practice that focuses partly on housing work.
The panel was moderated by Beth Mellen Harrison, Supervising Attorney for Legal Aid's Housing Law Unit and Director of the Housing Right to Counsel Project.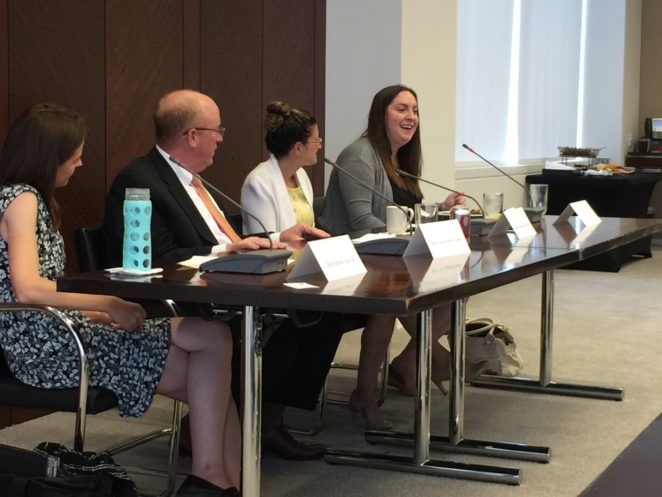 (Pictured from left to right: Beth Harrison, John O'Connor, Daniele Schiffman, and Melissa Weberman)
The experienced pro bono panel brought fresh and varied perspectives on a host of topics, such as the enormous value of leveling the playing field in D.C.'s Landlord and Tenant Court, where nearly 90% of landlords are represented by counsel and 90-95% of tenants are unrepresented. They also shared concrete case handling tips and insight into the unique culture and practice of Landlord and Tenant Court. The masters emphasized that these cases provide excellent opportunities for newer pro bono attorneys to build critical legal practice skills and work with colleagues outside of their practice areas.
But back to the panelists' thoughtful and passionate responses to the opening question of why these cases are so compelling:
John O'Connor:  What is so striking to me about eviction cases is how undignified of an experience it can be for unrepresented tenants. There are nearly 150 cases called each day with people at risk of losing their homes, and the volume of cases can make it difficult for an unrepresented tenant to get anyone to stop and listen to what he or she is saying. Before a tenant gets a lawyer, the tenant has very little bargaining power against his or her landlord.  However, after a tenant gets a lawyer, there is a remarkable shift . . . .

 

Daniele Schiffman:  I think all pro bono work is extremely important, but I find housing work on behalf of low-income tenants extremely compelling work for lawyers in particular. The District of Columbia has one of the Nation's highest concentration of lawyers . . . yet we also have one of the highest poverty rates in the Nation, and many of those in poverty are living in substandard housing conditions and/or are facing eviction. The mere fact that a tenant has legal representation can drastically change the outcome of the case. As associates in Big Law, we are fortunate to have the skill set and resources needed from our firms to help those in need, and I believe we have an obligation to do so. If we are going to live and practice law in the District, as I do, I feel we have a duty to help those in need around us and do our best to make a difference in the lives of others.

 

Melissa Weberman:  This work has been extremely meaningful to me, both personally and professionally. Personally, it is enormously rewarding to help individuals and families stay in their homes and, often times, avoid homelessness. Professionally, this has provided me the best opportunity I've had to build true, on my feet, in-court litigation skills. 
Not only was the panel of pro bono superstars a source of inspiration, it further equipped pro bono attorneys to skillfully represent their clients, helping more tenants stay in their homes, keep their subsidies, and avoid homelessness.