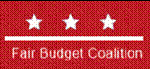 Protest Cuts to Safety Net Services with the Fair Budget Coalition and Save Our Safety Net!
Why? Because the Mayor's proposed budget for FY2011 makes cuts to vital programs like child care vouchers, adult job training, and domestic violence services. Our safety net is already in tatters, after more than $100 million in cuts in the last two years. We can't afford to cut any more.  
What? Rally in front of City Hall. Hear Councilmembers speak at the rally about their plans to save the safety net through progressive revenue proposals. Visit Council offices to show the community is behind safety net programs.  WEAR RED!!! 
When? 11:30-1:00 Wednesday, May 5th 
Where? 1350 Pennsylvania Ave NW. Close to Federal Triangle (orange/blue) and Metro Center (red, orange/blue).
Please contact Kristi Matthew to RSVP and get additional information: Kristi@legalclinic.orgor 202-328-1262.
Note: We will not hold a Fair Budget general membership meeting that day.
 
Joni Podschun
Campaign Manager, SOS-DC
202-553-7248