The Legal Aid Society of the District of Columbia is pleased to announce that we will be honoring Thomas C. Papson with the Servant of Justice Award at the 29th Annual Servant of Justice Awards Dinner taking place on April 24th.
Tom is a Volunteer Staff Attorney in Legal Aid's Consumer Law Unit. He represents clients in a range of consumer law matters and is a member of Legal Aid's team of lawyers providing same-day representation to defendants with cases on the Superior Court's high-volume small claims debt collection calendar. He also is active in Legal Aid's legislative reform efforts relating to consumer protection and broader efforts to enhance access to justice for Legal Aid's client community.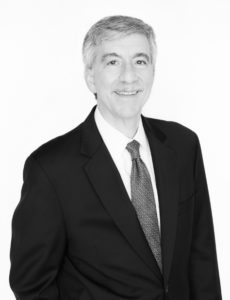 Tom joined Legal Aid in September 2013, following his retirement from McKenna Long & Aldridge. At McKenna, he maintained a commercial and government contracts litigation and compliance practice for more than 30 years, and served as Managing Partner of the Washington, D.C. office. He was a member of the Legal Aid Board of Trustees from 1992 to 2005 and was Board President from 2000 to 2002.
While in private practice, Tom was active in pro bono and other public service work. He served as court-appointed amicus in litigation concerning conditions in the D.C. public schools and as litigation counsel for two historic preservation groups in the District. Tom also held various leadership positions in the D.C. Bar, including Chair of the Judicial Evaluation Committee. He was the organizer and managing editor of the first D.C. Bar Practice Manual, for which he was recognized with the Bar's President's Award. He continues to serve as a volunteer mediator in the D.C. District Court's Mediation Program.
Since joining Legal Aid, Tom has assisted more than 200 clients, winning voluntary dismissals in over 40 cases, negotiating more than 55 settlement agreements, and securing court decisions in 17 cases. Legal Aid estimates that Tom has helped his clients save nearly half a million dollars.
The Servant of Justice Award recognizes individuals or organizations who have demonstrated faithful dedication and remarkable achievement in ensuring that all persons have equal and meaningful access to justice. Past honorees include Vanita Gupta, President and CEO of the Leadership Conference on Civil and Human Rights; Donald B. Verrilli, Jr., former Solicitor General; Marian Wright Edelman, Founder of the Children's Defense Fund; Seth Waxman, former Solicitor General; and Eric H. Holder, Jr., former Attorney General.
Individual tickets to the April 24th Dinner are still available, but don't wait until the last minute! Please click here to buy tickets or reach out to Rob Pergament, Director of Development, at rpergament@legalaiddc.org for more information.