On March 7, 2016, Legal Aid joined unemployed workers and other advocates to ask that the DC Council raise unemployment benefits and adopt other common sense reforms to benefit workers in the District of Columbia. The witnesses testified at the Committee on Business, Consumer and Regulatory Affairs' Performance and Oversight Hearing for the Department of Employment Services, which administers DC's unemployment benefit program.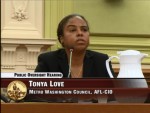 Unemployment benefits provide a partial wage replacement to workers who lose their job through no fault of their own. As Tonya Love, of the Metro Washington Council (AFL-CIO), explained, "I have interviewed thousands of unemployed workers and for almost all of them, a job loss can be catastrophic." Unemployment benefits help prevent a free fall into poverty for the individual worker. But these emergency funds also benefit the local economy by allowing workers to continue paying bills and buying needed goods, like groceries, after a job loss.
However, DC's benefits are too low to meet these goals for most workers. While unemployment is supposed to replace 50% of wages, for workers who make over $37,000 per year, unemployment replaces a mere fraction of their earnings. DC's maximum unemployment weekly benefit amount of $359 per week is one of the lowest in the country -- lower than Maryland ($430 per week), Virginia ($378 per week), and 36 other states.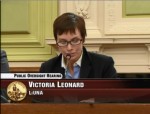 As Victoria Leonard from Laborers' International Union of North America (LiUNA) explained, "DC is the fifth most expensive city in the U.S., yet we have the 13th lowest benefits." It has been 10 years since DC last raised this benefit and since then, $359 has lost 20% of its purchasing power due to inflation.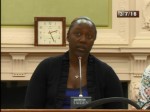 DC also has a strict formula for workers who find part-time work while receiving unemployment. Currently, if a worker finds a part-time job while receiving unemployment, DOES drastically reduces their benefits. As Feradeh Menzie explained, after waiting several months for her unemployment benefits to finally come through, "it feels like (she) waited for nothing" because her benefits were heavily reduced by the wages from her temporary, part-time job. This strict formula discourages workers from looking for part-time work while they receive unemployment benefits.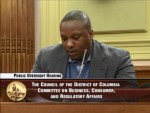 Finally, not all workers are eligible for a full 26 weeks of benefits if they have an inconsistent work history due to season work or ongoing underemployment. Aaron Fye testified that he was eligible for only three months of unemployment benefits after his last construction job ended. With a wife, four children, and another on the way, he is on the brink of having to move.
A bill introduced last September aims to modernize DC's unemployment benefits structure. "This city is ready, willing, and able to increase unemployment benefits," said Tonya Love, of the Metro Washington Council (AFL-CIO). Indeed, DC's Unemployment Trust Fund soundly weathered the last recession and even had a $50 million surplus last year. Unemployed workers and advocates urge the DC Council to use these funds to benefit workers, specifically:
1. Raise the maximum weekly benefit amount from $359 per week to $430 per week,
2. Index these benefits for inflation each year, in line with 35 other states,
3. Increase incentives for unemployed workers to take part-time work by making partial unemployment benefits more generous, and
4. Allow all workers to receive 26 weeks of benefits.
Legal Aid urges the DC Council to adopt unemployment benefit reforms expeditiously in order to help DC's unemployed workers.
Check out the videos below for highlights of the day's testimony.
Public Witnesses: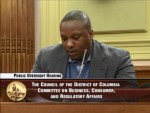 Aaron Fye, DC Resident of Ward 4, Member of LiUNA Local 11
"I am a journeyman laborer specializing in demolition. I love working in construction. The biggest drawback is that construction is often seasonal and you can be laid off in between projects. This happened to me. Four months ago, I was laid off. One month ago, my unemployment benefits ended."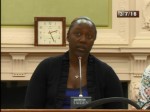 Feradeh Menzie
"Since I'm working part-time, my unemployment is cut way down based on [my] wages … Between my unemployment and my wages I still don't have enough to make ends meet. It feels like I waited a long time for nothing."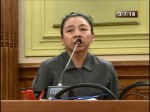 Fanny Jones testimony DOES oversight hearing 3 7 2016
"I hope you will raise the benefits. $359 a week will only pay my electric and water bill. Then I have to think about, how am I going to pay my mortgage?"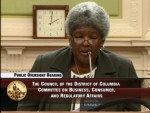 Karlene Armstead, DC Resident of Ward 8, ANC Commissioner 8E
"Receiving unemployment was mind awakening because homelessness became a reality. I didn't know if I was going to be able to stay or how I was going to make it."
 
 
 
Advocates: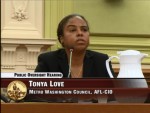 Tonya Love, Metro Washington Council (AFL-CIO)
"Unemployment benefits were designed to be a safety net to offset the loss of income when they lose a job through no fault of their own. The hope is that the period of unemployment will be short .. and that the benefits will cover their needs during that period… But it is a daunting task to make a living on $359 per week."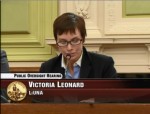 Victoria Leonard, Laborers' International Union of North America (LiUNA)
"At a recent meeting of Local 657 members, there was discussion of DC's unemployment benefits… they raised concerns that DC's maximum benefit amount [$359 per week] lags far behind Maryland [$430]."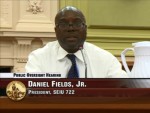 Daniel Fields, Jr., Service Employees International Union (SEIU) Local 722
"Many of my members have benefited from high wages based on our representation of them… When it comes to contract negotiations we can help. But when it comes to unemployment benefits we can't help except to come to the Council and ask that the benefit be raised. DC has a high cost of living and the benefits just don't fit the bill."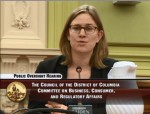 Drake Hagner, Legal Aid Society of the District of Columbia
"When I began representing unemployed workers at Legal Aid in 2011, of course I knew that I'd be working with low wage workers because unemployment benefits are a critical life line that prevent the free fall into extreme poverty. What I didn't know is that even formerly middle class workers who are receiving the maximum unemployment benefit in DC are living below the poverty line."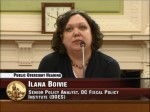 Ilana Bolvie, DC Fiscal Policy Institute
"The $359 cap, which is lower than the maximum benefit in 38 states, is below the federal poverty line for a family of three and far below the living wage in DC."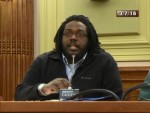 Aaron Goggans, DC Employment Justice Center
"We have the lowest unemployment benefits in the region and we think it's really important to support folks in this economy who are looking for jobs. We also want to incentivize workers to look for part-time work and return to work as soon as possible."