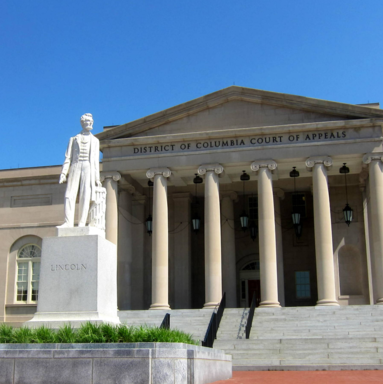 Barbara McDowell Appellate Advocacy Project
Established in 2004 with seed money from the DC Bar Foundation, which continues to provide generous support, Legal Aid's Appellate Project has become a "model of excellence" that the National Legal Aid and Defender Association has urged other legal services programs to emulate.
The Project not only litigates appeals on behalf of Legal Aid clients but also files "friend of the court" briefs in cases involving matters of importance to people living in poverty. Beyond litigation, the Project provides appellate instruction, consultation, and advice to the larger D.C. legal services community. Although most of the Project's work involves cases before the District's highest court – the District of Columbia Court of Appeals – the Project also gets involved in administrative appeals and cases before the District of Columbia Superior Court and the federal courts.
The Project was named for its founding Director, Barbara McDowell, after her untimely death.  Barbara was a renowned appellate litigator and U.S. Supreme Court advocate who led the Project during its formative years, helping numerous clients in their individual cases and helping to establish precedents that will continue to serve District residents into the future.  The Project is funded in part by the Barbara McDowell Endowment Fund for Appellate Litigation, which was established with funds donated both from Barbara's estate and from the generous donations of her husband, Jerry Hartman. The Fund was created "to honor the immeasurable contributions that Barbara made to Legal Aid and the legal needs of persons living in poverty in the District of Columbia."
Since 2017, the Project has been staffed by the Sidley Austin Appellate Advocacy Fellow, generously funded by Sidley Austin LLP and recently renamed the Sidley Austin LLP Appellate Fellowship in honor of Mark E. Herzog. Mark helped provide an unprecedented level of free legal services to so many people over his career at Sidley and at the D.C. Bar Pro Bono Center.
2015 LEGAL AID APPELLATE ADVOCACY
NB v. District of Columbia
2015 LEGAL AID APPELLATE ADVOCACY
DeSelms v. Hahn
2015 LEGAL AID APPELLATE ADVOCACY
Business Resources and Security Services, Inc. v. Webb
2015 LEGAL AID APPELLATE ADVOCACY
Tanner and Wynn v. Caldwell
2015 LEGAL AID APPELLATE ADVOCACY
Smith v. Ventura and Enamorado
2015 LEGAL AID APPELLATE ADVOCACY
Ross v. District of Columbia Department of Employment Services