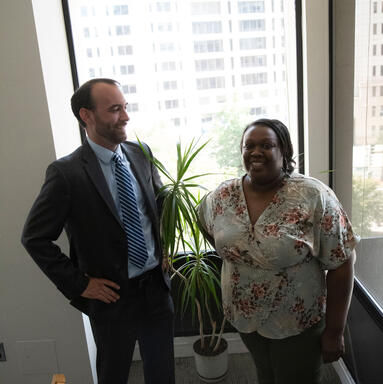 Eviction Defense Project
In 2018, with funding from a new grant program established by the D.C. Council and administered by the D.C. Bar Foundation for purposes of increasing eviction prevention through legal representation, Legal Aid launched our Eviction Defense Project, which combines and builds upon our existing programs, working in close coordination with other legal services providers. Since 2007, Legal Aid and Bread for the City have operated an office sited in the Landlord and Tenant Branch of D.C. Superior Court, where our attorneys have provided same-day and extended representation to thousands of individuals and families facing eviction from their homes. Since 2015, Legal Aid has partnered with Bread for the City, Legal Counsel for the Elderly, and the D.C. Bar Pro Bono Center on the Housing Right to Counsel Project, which aims to dramatically expand access to counsel for tenants facing eviction in subsidized and low-rent units through an innovative service delivery model that includes an offer of guaranteed representation. Through a multi-faceted and collaborative approach, the Eviction Defense Project seeks to address the overwhelming need for legal representation of low-income tenants facing eviction, as well as tenants at risk of eviction due to the threatened termination of their housing subsidies. We consider eviction defense as part of a broader strategy to preserve affordable housing and prevent displacement of low-income individuals and families in the District.
Affordable Housing Preservation Project
In 2018, Legal Aid expanded its existing affordable housing work and formally established its Affordable Housing Preservation Project. The Project aims to prevent the displacement of DC residents facing rising housing costs and unsafe or uninhabitable housing conditions. Through the Project, Legal Aid provides representation to tenants and tenant associations in a range of matters, including: fighting unlawful or unreasonable rent increases, combating abusive tactics designed to strip tenants of their rights under the Tenant Opportunity to Purchase Act (TOPA), enforcing tenants' rights to building-wide improvements, and helping tenants obtain repairs in their individual units. We combine these efforts with systemic advocacy and targeted eviction defense in an effort to ensure that long-term DC residents are able to remain in their neighborhoods of choice.
Domestic Violence Victims Representation Project
Legal Aid has been staffing the Domestic Violence Intake Center in Southeast D.C. for more than seven years. Our attorneys currently staff the office four days a week. By locating in Southeast, DC, we are able to provide clients with better access to our services. Project attorneys meet with survivors of domestic violence for initial interviews, help clients secure Civil Protection Orders through legal representation or advice, and provide referrals for other services.
Domestic Violence Underserved Communities Project
In 2012, Legal Aid began a new domestic violence project to address the gap in domestic violence services in the District. With generous funding from the D.C. Bar Foundation, we were able to hire additional new domestic violence/family law attorneys in order to expand our domestic violence work. Our attorneys now staff the Northwest Domestic Violence Intake Center at the courthouse and provide outreach and services to underserved communities in the District.
Child Support Community Legal Services Project
Modeled after the successful Landlord Tenant Court-Based Legal Services Project, this project was established in 2011 and is also operated jointly with Bread for the City. Also funded through a grant from the D.C. Bar Foundation, Legal Aid attorneys staff the Child Support Resource Center at the Child Support and Paternity Branch of D.C. Superior Court and provide same-day legal services to custodial and non-custodial parents, helping them navigate the daunting child support system.
Consumer Court-Based Legal Services Project
Since 2012, Legal Aid's Consumer Law Unit has maintained a courtroom presence for the call of the Superior Court's "Debt Collection Calendar." That calendar is comprised of two kinds of cases: those seeking to collect a consumer debt and those in which an insurance company seeks to recover from drivers and owners of motor vehicles involved in an accident with a person the company insured.  
For both case types, we offer same-day advice and information to unrepresented defendants. In cooperation with partner organizations, the Consumer Law Unit also staffs a Debt Collection Defense hotline that consumers can call to obtain information and request legal representation, 9:00 to 5:00, five days week. 
Over time, Legal Aid has assisted more than 1,000 low-income consumers and drivers. On a docket where all plaintiffs are represented by counsel and defendants are overwhelmingly unrepresented, Legal Aid's project helps level the playing field. By providing advice and representation, Legal Aid attorneys protect clients from abusive and unlawful debt collection practices and from judgments and unfavorable settlements that can have devastating impacts on people living in poverty.  
Foreclosure Prevention Project
Legal Aid's foreclosure prevention project began shortly after D.C. Superior Court implemented a special calendar and procedures for judicial foreclosure cases, offering distressed homeowners the chance to participate in early mediation with their lenders and discuss the possibility of loan modifications and other alternatives to foreclosure at the outset of each case. The project aims to help low-income homeowners save their homes through direct legal representation, systemic advocacy, and outreach—including a regular presence in court during the call of the weekly judicial foreclosure calendar.
Southeast Neighborhood Access Project
In 2006, Legal Aid established an office in Anacostia with funding from the D.C. Bar Foundation. Every year, the Southeast Neighborhood Access Project serves hundreds of persons living in poverty who would not otherwise have access to legal services due to disability, financial hardship, or lack of transportation. We have found that locating our lawyers in areas of highly-concentrated poverty (namely Wards 7 and 8) has proven to be among the most effective ways to raise awareness, increase access to much-needed legal services, and reduce the geographic barrier for those in greatest need. Beginning in 2015, Kirkland & Ellis LLP has partnered with Legal Aid in SE, providing financial and volunteer support for our Big Chair office and pro bono representation to residents in Wards 7 and 8.
Reentry Justice Project
Since 2015, Legal Aid's Reentry Justice Project has been dedicated to assisting clients facing barriers in accessing housing, employment, and other civil rights and opportunities as a result of having a criminal record. Individuals who have interacted with police and the criminal judicial system—disproportionately people of color and people who live in areas of concentrated poverty—find themselves facing a multitude of collateral civil consequences that act in real and concrete ways to perpetuate generational cycles of poverty. The Project seeks to eliminate those barriers through direct representation and systemic advocacy. We provide representation to clients in areas including criminal record sealing, housing and employment denials based on criminal history, and challenges to other collateral consequences arising within our civil legal practice areas. We also advocate for policy changes before the D.C. Council, administrative agencies, and other legislative and regulatory bodies.
Immigrants' Rights Legal Services Project
In April 2018, with a generous seed grant from the Venable Foundation, Legal Aid established this Project to provide advice, representation, and brief services in immigration matters as well as holistic services across all of Legal Aid's practice areas to D.C.'s immigrant client community. The Project also coordinates know-your-rights trainings and provides family and emergency preparedness information as well as other self-help materials. In an effort to tailor services to our immigrant community where many of our Spanish-speaking clients live, work, and attend school, Legal Aid is partnering with Carlos Rosario International Public Charter School, a nationally recognized, award-winning school that provides adult education, literacy, and other services to the immigrant client community and speakers of other languages. Legal Aid conducts initial interviews in dedicated office space at the school once a week during the school year.