This week, Legal Aid honored Daniel Wolf, an associate with Gilbert LLP, with our Making Justice Real Pro Bono Award in recognition of Dan's outstanding pro bono service to his clients and exemplary pro bono leadership at his firm. Legal Aid's Executive Director Eric Angel and Jodi Feldman, who manages Legal Aid's Pro Bono Program, presented the award at a reception with many of Dan's colleagues in attendance.
Dan has been continuously involved with Legal Aid's Pro Bono Program for over six years, representing clients in multiple practice areas including consumer law, rental housing, and public benefits. Moreover, he has been a leader at his firm in recruiting his colleagues to take on pro bono matters referred from Legal Aid.
In his practice at Gilbert, Dan represents policyholders in state and federal court seeking recovery under several different lines of insurance. And, in her remarks, Jodi specifically highlighted Dan's commitment to representing low-income individuals who have been sued by large, well-known automobile insurance companies in what are known as subrogation cases.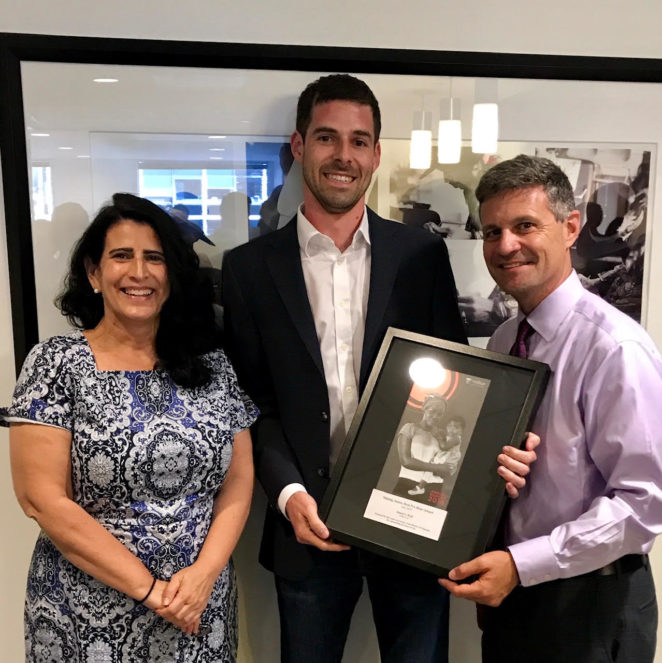 Insurance companies bring subrogation cases in an effort to recover from a third-party the money that they already have paid out in claims to their insureds in connection with automobile accidents. Although the defendants in these cases often have meritorious defenses and the insurance companies suing them regularly lack sufficient evidence to prove up their claims, it is daunting at best for a low-income individual being sued for several thousands of dollars by a behemoth insurance company to proceed without counsel.
"Indeed, these cases involve as unlevel of a playing field as one can imagine," said Jodi. "That's why it is critical that attorneys like Dan – who are used to standing up to insurance companies – are willing to take them on. Dan has made a real difference in the insurance subrogation matters he has handled, successfully negotiating or otherwise securing dismissals in several of these cases."
"I'm extremely grateful to everyone at Legal Aid for this award," said Dan. "It's very exciting to be recognized for work that means so much to me. And it's especially exciting to see recognition go to work on cases that might not make headlines, but that still play a pivotal role in an individual's life – like defending a financially distressed client against an aggressive auto insurer or fighting on behalf of a disabled client for social security benefits."
We are so pleased that Dan has chosen to partner with Legal Aid and to join us in furthering our mission to make justice real for low-income individuals and families across our city.
Legal Aid's Pro Bono Program greatly enhances our ability to make justice real by expanding our resources to serve more clients with the help of lawyers in private practice and government service. For more information or to learn about current pro bono opportunities with Legal Aid, contact Jodi Feldman at (202) 661-5965 or jfeldman@legalaiddc.org, or Sylvia Soltis at (202) 386-6689 or ssoltis@legalaiddc.org.