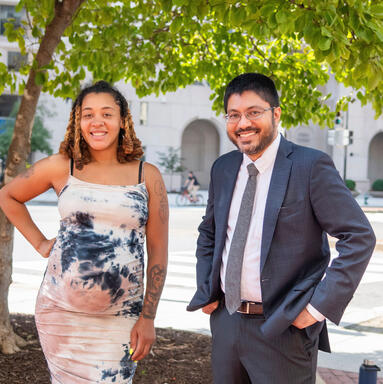 Former client Maria Johnson (name changed for confidentiality) with her Legal Aid attorney, Rais Akbar
Keeping families in safe, affordable housing is at the core of our housing law practice. Our housing law attorneys understand the importance of getting our clients effective and timely relief in matters such as eviction, housing code violations, the termination of housing subsidies, and the preservation of affordable housing.
We represent clients in eviction cases in the Landlord and Tenant Branch of D.C. Superior Court and in administrative hearings to preserve housing subsidies and challenge unlawful rent increases. Legal Aid housing law attorneys also assist clients living with deplorable housing conditions by representing them in affirmative suits to obtain repairs. We also work with tenant associations to exercise their rights under the Tenant Opportunity to Purchase Act (TOPA) and to protect their rights under the District's rent control law.
Recognizing the acute need for tenant representation in D.C. Superior Court, we established the Landlord Tenant Court-Based Legal Services Project in 2007 to provide legal assistance to tenants at the courthouse, thanks to the generous support of the D.C. Bar Foundation. In 2010, we also advocated for the creation of the Housing Conditions Calendar, designed to help tenants living in poor housing conditions bring repair claims to court. In 2015, Legal Aid, in collaboration with Bread for the City, Legal Counsel for the Elderly, and the D.C. Bar Pro Bono Center, launched the Housing Right to Counsel Project, which aims over the long term to offer a guarantee of representation to tenants in subsidized housing or low-rent units who are facing eviction. In 2017, the D.C. Council appropriated new funding to support eviction prevention through legal representation. With new funding, Legal Aid combined our existing programs into a multi-faceted Eviction Defense Project, working in close coordination with other legal services providers.
In 2018, again with the support of the D.C. Bar Foundation, Legal Aid expanded its existing affordable housing work and formally established its Affordable Housing Preservation Project, which aims to prevent the displacement of D.C. residents facing rising housing costs and unsafe or uninhabitable housing conditions.  Through the Project, Legal Aid provides representation to tenants and tenant associations in a range of matters, including: fighting unlawful or unreasonable rent increases, combating abusive tactics designed to strip tenants of their rights under the Tenant Opportunity to Purchase Act (TOPA), enforcing tenants' rights to building-wide improvements, and helping tenants obtain repairs in their individual units.
In addition to individual representation, our housing law unit works to identify cases that could have a broad-based impact and engage in advocacy on issues that affect a group of tenants and/or the operations of government agencies and the Court.