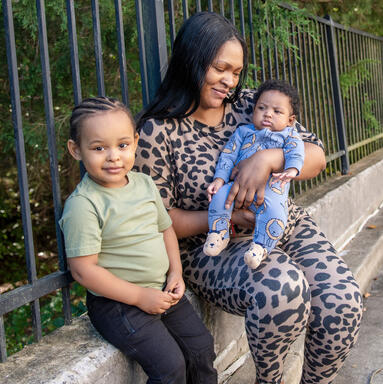 Former client Zenaba Amadou and her children
Our public benefits attorneys help our clients obtain the safety net benefits they need to make ends meet – and to which they are legally entitled. We help hundreds of clients address legal issues with their food stamps, unemployment insurance, healthcare, TANF, and other matters, through direct representation in administrative appeals, litigation, and agency advocacy.
Systemic work is a critically important part of our public benefits practice. Some examples include:
*Ensuring that the Affordable Care Act is implemented humanely and sensibly in the District.
*Modernizing the District's unemployment benefits structure, including ensuring that benefits keep pace with inflation.
*Improving the Temporary Assistance for Needy Families (TANF) program to eliminate the so-called "TANF Cliff" which would have cut off benefits after 60 months.
Every December, our public benefits attorneys organize clinics in which teams of lawyers and volunteers go into the community to help low-income beneficiaries navigate the Medicare Part D drug benefit program. Through these clinics, we have helped ensure the health and stability of hundreds of individuals every year.
Legal Aid and the OAH Legal Assistance Network (OLAN) are excited to announce the expansion of the OLAN hotline. The hotline connects individuals with pending public benefits and shelter-related cases at OAH to attorneys. The hotline is open Tuesdays, Wednesdays, and Thursdays from 10 am to 3 pm. Call (202) 301-1646 for assistance.
Translated in Spanish or Amharic