Domestic Violence/Family Law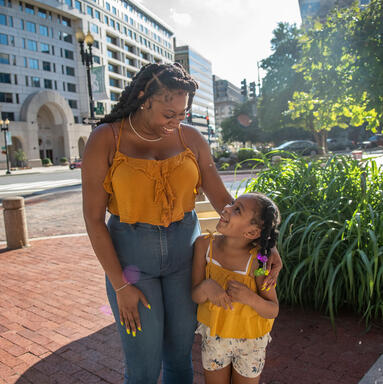 Former client Ms. G and her daughter
Our domestic violence/family law attorneys represent clients in a wide range of intrafamily matters in the D.C. Superior Court. We represent domestic violence survivors seeking to obtain civil protective orders against their abusers. As of 2012, we maintain a presence at both Domestic Violence Intake Centers in D.C. (in N.W. at the courthouse, and in S.E. at the  Anacostia Professional Building) to increase access to our services and to provide critical same-day assistance to clients.
We also represent clients in custody and divorce matters, seeking to achieve just outcomes that improve the lives of families and children in poverty. And we represent clients in child support cases, where we strive to ensure fair and accurate child support orders — support that is often vital to a child's well-being. In 2011, we established an office at the D.C. Superior Court's Parentage and Support Branch to help custodial and non-custodial parents navigate the daunting child support system. We are able to help hundreds of individuals every year as a result.
In addition to providing direct client representation, we have continued to focus on our systemic efforts around these issue areas. Our domestic violence/family law attorneys actively participate in efforts to increase collaboration and improve services to domestic violence survivors, serving on many committees with other advocates in the District. We also strive to transform the operations of the child support court, as well as participate in meetings with other service agencies and stakeholders in the community to address emerging issues and trends.