Legal Aid Prevails in Systemic Lawsuit Preserving SNAP Benefits for 700,000 Americans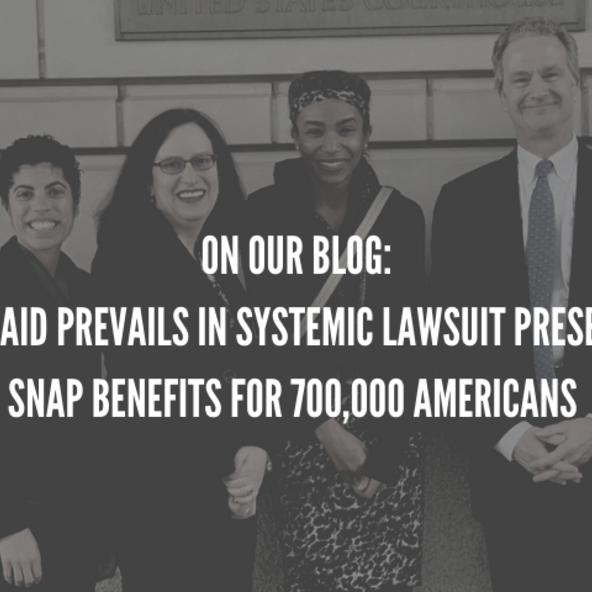 On October 18, 2020, Judge Beryl Howell of the federal District Court of the District of Columbia vacated a U.S. Department of Agriculture rule that would have cut off access to SNAP benefits, also known as food stamps, for nearly 700,000 Americans, including more than 13,000 DC residents.
Working with our pro bono partners at Alston & Bird (pictured above: Legal Aid and Alston & Bird attorneys outside federal court on March 5 after oral arguments) Legal Aid represented Bread for the City and two individual clients, Geneva Tann and Damon Smith, in a complaint that was combined with a similar suit filed by nineteen states, the City of New York, and the District of Columbia. The challenged rule would have prevented the District of Columbia from waiving a SNAP provision that limited so-called "able-bodied adults without dependents," (or adults without disabilities who live without children or other dependents) from receiving SNAP benefits for 33 of every 36 months unless they meet certain work requirements. Such waivers have been granted over the past 20 years in recognition of the longstanding challenges that low-income District residents face in obtaining steady employment.
Earlier this year, in March 2020, Judge Howell had granted the plaintiffs' request for a preliminary injunction against one portion of the rule that was supposed to have been implemented on April 1, 2020. In yesterday's ruling, she vacated the entire rule (including the provision that she had previously declined to preliminarily enjoin).
In her decision, Judge Howell addressed the deficiencies of the process that the Administration used to promulgate this rule in light of the once in a lifetime pandemic, stating,
In March 2020, when this Court largely granted preliminary injunction requests from nineteen States, the District of Columbia and the City of New York, as well as private plaintiffs, USDA estimated the prospective changes to SNAP would affect over one million people, by newly subjecting them to time limits on their eligibility to receive food under this program, and kick almost 700,000 able-bodied adults without dependents ("ABAWDs") out of the SNAP program altogether. . . .The agency has been icily silent about how many ABAWDs would have been denied SNAP benefits had the changes sought in the Final Rule been in effect while the pandemic rapidly spread across the country and congressional action had not intervened to suspend any time limits on receipt of those benefits. In the pandemic's wake, as of May 2020, SNAP rosters have grown by over 17 percent with over 6 million new enrollees. . . . Despite the agency's blinkered effort to downplay or disregard the predicted outcomes of the Final Rule, the backdrop of the pandemic has provided, in stark relief, its procedural and substantive flaws.
Legal Aid and Alston & Bird are grateful primarily to our plaintiffs Geneva Tann and Damon Smith and Bread for the City. Ms. Tann and Mr. Smith bravely and patiently worked with Legal Aid and Alston & Bird attorneys to tell their personal stories and illustrate the impact that implementation of this rule would have on them and (by extension) all of the ABAWDs in the District. And Bread for the City ably demonstrated the impact that this rule would have on the health and well-being of the SNAP beneficiaries they serve (as well as their own operations).
The Department of Agriculture has not indicated whether it will appeal this decision. But for now, the Court's ruling prevents the implementation of a rule which would have cruelly exacerbated the increased hunger and hardship that our client community is experiencing as a result of this once in a generation pandemic.