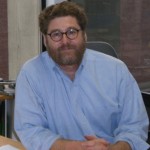 The District of Columbia is in the midst of one of the most challenging budget deliberations in years.   Last week, each committee marked-up the budgets of the agencies within their jurisdiction.   Now it falls to the Committee of the Whole (COW) to find money for unfunded priorities and to address the Mayor's proposal to draw on the District's reserve funds.  The outstanding issues can only be addressed by raising taxes or further cuts to programs.   These are tough decisions in any year, but especially so in a year filled with so many hotly contested elections.
In years past, the COW has retreated to the Chair's conference room to discuss the hard choices and make the necessary deals, coming out into the public only for the vote.   Behind closed doors, the compromising, horse-trading and reversal of commitments to constituents was hidden from view.  
But this year, thanks to pressure from advocates, things were different.  The COW still met in the Chair's conference room, but it was televised.    For two days, the members sat around a cramped table and argued about programs, priorities and taxes and anyone with an internet connection could watch.   While we might not be enthusiastic about the all the decisions that were made (technically, they made no decisions but only "gauged the sense of the room"), this step towards transparency is large and important.
We also want to thank the Committee on Public Safety and the Judiciary for their support of civil legal help for District residents living in poverty.  The Committee found sufficient money to restore the Access to Justice Fund to $3.5 million.   We are especially grateful to Council Members Mendelson and Cheh who were our champions, but also to Council Members Evans, Bowser and Alexander you provided support.  While this could change between now and the final vote on the budget, we are hopeful that this program will remain a Council priority.