An old adage goes: if you truly want to know someone's priorities, just take a look at her checkbook. Last Friday, advocates implored the D.C. Council to elevate the need to protect 13,000 District children and their families from losing crucial cash assistance by funding a robust set of exemptions and extensions to TANF's draconian time limits in the FY 2017 budget.
Legal Aid and our community partners have spoken frequently about the dangers the District's plan to cut 13,000 kids and their families from the TANF program but the points bear repeating: TANF is a critical safety net for District families struggling toward full-time sustained employment in an economy that often does not have room for them, and it is a lifeline for District families facing insurmountable barriers to self-sufficiency.
Eric Angel, Legal Aid's Executive Director, personally testified before the Council Committee of the Whole to emphasize the importance of preventing the TANF Cliff, stating: "We should do all we can for the Districts most vulnerable families."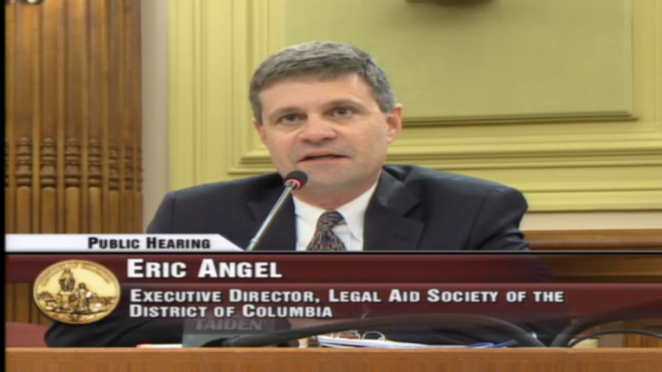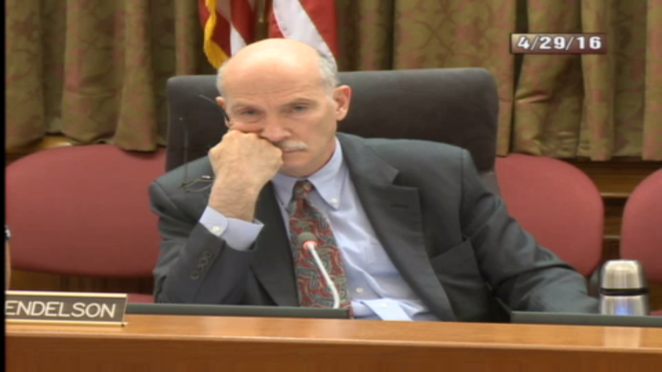 Eric was joined by the executive directors of other non-profit organizations, including Ed Lazere, of the DC Fiscal Policy Institute, who urged the committee: "Getting D.C.'s TANF time limit [policy] right is the most critical issue affecting low income children in my 15 years at DCFPI."
Cash Income is Essential to Child Welfare
To be sure, TANF is much more than cash assistance. A well-run program, for example, can provide critical job training and child care assistance to help families find sustained employment. But cash assistance is vital for positive child outcomes.
On a micro level, kids simply need cash to get by. Other public assistance programs, like SNAP, commonly known as "food stamps", do not pay for school uniforms or supplies. Nor can food stamps buy diapers, keep the lights on, or pay for life enriching school field trips. Cash's importance to children goes even deeper than that, and the effects can last well into adulthood.
"Cuts in TANF benefits have been shown to link directly to poor health outcomes and increased child hunger," testified Judith Sandalow, Executive Director of the Children's Law Center. "Additionally, children in families affected by benefit reductions do worse in a number of developmental areas and have lower scores on tests of quantitative and reading skills, resulting in long-ranging impacts on these children's ability to complete their education and find meaningful work as adults."
Ounce of Prevention, Pound of Cure
It is not hard to imagine how difficult it is for a family of three to try make it on $154 of cash assistance a month. Think about how much it takes you to get around the city every day, to clean your clothes, to grab an "emergency" lunch when you absent mindedly run out of the house without your packed meal. Now try to envision what all of that would be like on a budget of $154 a month. Thousands of families in the District don't have to imagine what it's like, because this is their daily reality.
The District's current TANF time limit policy punishes families unable to find sustained employment by slashing their monthly grant by two-thirds, dropping the benefit to $154 for a family of three.
How can a single mother of two do what she needs to do to get and keep a job with an income of $154 per month? And, of equal concern, how can the family facing severe barriers, including domestic violence and disability, subsist on that same amount when there is no chance that money will be supplemented by or replaced with earned income?
As bad as this is now, these families' situations would be even more dire if all assistance is cut off.  What will happen to them? What will happen to these children? Research from other states tells us full TANF benefit cuts would be devastating. Studies in states like, Maine, Michigan, and Washington found that families subjected to full TANF time limit cuts put an increased strain on food banks, homeless shelters, and the foster care system.
As Ife Floyd, Policy Analyst of the Center on Budget and Policy Priorities put it, "There is no reason to believe that District families who will lose benefits because of the time limit will fare any better than families in other states – and there are reasons to believe they could fare worse. The District of Columbia's labor market has few opportunities for individuals with limited work experience and few skills and its housing market provides few options for families with limited income."
In terms of upfront expenditures, TANF reform will not be cheap. Budget experts estimate that a robust system of exemptions and extensions will cost in the neighborhood of $30 million this year. But it makes sense to spend money on TANF. Alan Pemberton, a partner at Covington and Burling LLP and chair of his firm's public service committee, illustrated this point at the hearing by urging the Committee to look at the District's juvenile justice system: "Research has shown that the District can spend upwards of $700 per day every day we confine a young person. One estimate showed that every year, taxpayers nationally lose $8-$21 billion in revenue because of the negative consequences on young person's confinement in terms of the long-term impact on schooling, connection to work, increased reliance on social services and long-term negative consequences. The modest expenditure taxpayers make through the current TANF approach would far exceed the potential costs if young people are needlessly pushed into the justice system."
Surely, it is more cost effective for the District and better for families to invest the time and resources into fixing the safety net for these families through TANF than it is to pay for the increased costs of foster care, homelessness, or incarceration that would likely result from the imposition of time limits without additional exemption and extension policies.
"A Fair Shot" for Whom?
The Mayor's FY 2017 budget is entitled A Fair Shot, both a catchy name and a laudable goal in any budget cycle. As a major city, D.C. is having a moment, ranking high in "best" and "coolest" places to live in recent years, and reinvigorating calls for statehood (are we set on New Columbia, though?). All that buzz attracts new, often young, high income residents. It's only fair that long-time Washingtonians and their children get the opportunity to benefit from the District's burgeoning prosperity.
Make no mistake; the cash assistance provided by TANF is not enough in itself to keep families out of poverty. But by merely extending the status quo of drastically reduced benefits for families over the time limits, many of whom have extreme barriers to employment, the Mayor's proposed budget fails to give our most vulnerable families a fighting chance, never mind a fair shot. As Eric Angel said in his testimony: "If D.C. were a country, we'd have the worst income inequality in the world. If we were a state we'd have the worst income inequality [of any state] in the country. And we actually have the fourth worst income inequality of any of America's major cities. We should be doing things to improve and ameliorate the situation with respect to income inequality and not exacerbate it."
Cuts to TANF Disproportionately Affect Families East of the Anacostia River.
 
Cuts to TANF would indeed exacerbate inequality. "There's such a disproportionate representation of people of color, people who are impoverished, that are adversely effected by local public policy," notes George Jones Chief Executive Director of Bread for the City in his Council testimony.  In FY 2014, the vast majority of TANF recipients resided in Wards 7 and 8. Roughly, one in two children, east of the Anacostia, lives in poverty. The overwhelming majority of residents in these wards are people of color.
The Road Ahead
The Council must make many tough decisions over the next few weeks, some that may reverberate for years to come. Fortunately our local law makers do not have to start from scratch in designing an alternative to the current TANF cliff which would leave thousands of children and parents without any means of support.
The DC Public Assistance Amendment Act of 2015 provides a policy framework that strikes a balance between encouraging families who can achieve self-sufficiency (with proper supports) without unduly punishing the most vulnerable individuals for whom TANF is a lifeline. This framework recognizes that a one size fits all policy does not work for District families. It takes into account the very serious obstacles families face on the path to self-sufficiency like limited levels of education, low literacy, domestic violence, and illness.  It recognizes that even when families are doing everything they can to find sustained employment, they may not find it before their TANF clock runs out.  And, most importantly, the framework protects children by guaranteeing at least a minimum level of cash assistance a month, no matter what.
"A budget is a reflection of a city's priorities," testified Executive Director Ericka Taylor of the D.C. Fair Budget Coalition. The time is now for the District to have its budget reflect its values: that we care about our most vulnerable families and children.