Legal Aid's client population, many of whom receive Temporary Assistance for Needy Families (TANF) benefits, got some really good news last week. The District of Columbia Council unanimously approved the Child Benefit Protection Amendment Act of 2017 and incorporated its provisions into the District's FY 2018 Budget. By removing the lifetime cap and adjusting the portion of TANF benefits subject to the non-compliance policy, thousands of D.C. families who were at risk of having their benefits terminated in October 2017 will now continue to receive the critical support of this important safety net program.

Disappointingly, the Washington Post article covering this exciting development focused largely on the cost of this legislation, and not on the lives it will undoubtedly positively impact. The Post also failed to adequately account for the cost of inaction, including increased child welfare and homelessness costs. But the real story is a much more uplifting one. It tells of years of advocacy from community members and anti-poverty organizations, including Legal Aid, that ultimately resulted in the successful protection of thousands of the District's most vulnerable children from losing all cash assistance this Fall.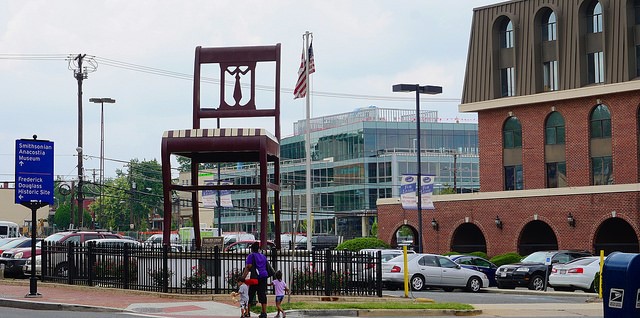 (Photo Source: Ted Eytan via Flickr.)
The bill mirrored the recommendations of last year's District-wide TANF Working Group, which consisted of policy advocates (including Legal Aid), District Councilmembers, Department of Human Services Staff, and community members. Based on research and testimony from advocates and TANF recipients, the Working Group recommended removing the TANF program's draconian time limits. Replacing the traditional TANF structure, which includes a 60-month lifetime cap on benefits and escalating sanctions for perceived noncompliance with TANF rules, with a new one that would protect children in families receiving benefits.
Under this new approach, a family's TANF grant would be divided into a "Child Enrichment Grant" (representing 80 percent of the full TANF grant) and a "Parent TANF Grant" (the remaining 20 percent). Only the Parent Grant would be subject to sanction for perceived non-compliance with program rules. This split would help ensure that, even as the government seeks to "promote individual responsibility" among parents, it does not deprive children, who depend on the TANF program to meet basic needs, of their last source of support.
In addition to making the Working Group's recommendations District law, this now-passed legislation will also restore full benefits to families whose grants were drastically reduced in recent years due to reaching 60 months in the program. Currently, a family of three who has received TANF for five years or more only receives $154 per month in cash assistance instead of the full grant of $508. The District will implement the new TANF policy during the next fiscal year which starts October 1, 2017.
The question of how best to help economically vulnerable families is complex, and the Post article does not truly capture this complexity. Furthermore, there is still a great deal of work to be done in promoting racially and socio-economically equitable policies in the District. However, for now at least, the District has a TANF policy that will protect children and provides a testament to what can be achieved when a diverse group of community stakeholders have a seat at the policy making table.