"Even in good economic times, the legal services network is chronically underfunded and lacks the capacity to meet the critical legal needs of the District's indigent residents," reports the D.C. Access to Justice Commission.
In 2010, the D.C. Access to Justice Commission established the Raising the Bar in D.C. Campaign to increase funding for the local legal services community by establishing benchmarks for law firm contributions. The campaign has been immensely successful. In 2015, more than 45 law firms gave over $5 million to support the Commission's goal of increasing access to justice in our community. These crucial funds help support Legal Aid and other legal services organizations that serve and empower vulnerable District residents.
Earlier this week, prominent judges, government officials, law firm attorneys, and legal services providers gathered at Sidley Austin for a Raising the Bar reception to honor the financial and pro bono contributions of the law firms participating in this campaign. The event was recently featured in the National Law Journal.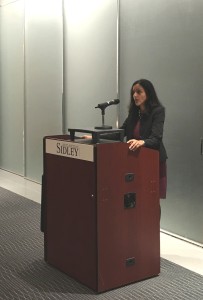 Peter Edelman, the Chair of the D.C. Access to Justice Commission, commended the Raising the Bar law firms for their extraordinary commitment to pro bono. He noted the many judges and government officials in attendance, including D.C. Council Chairman Phil Mendelson and Councilmembers David Grosso and Kenyan McDuffie; D.C. Attorney General Karl Racine; and numerous judges, including Chief Judge of the D.C. Superior Court Lee Satterfield and Judge Robert Wilkins of the United States Court of Appeals for the D.C. Circuit.
Congresswoman Eleanor Holmes Norton (who spoke eloquently about access to justice at last year's Legal Aid Servant of Justice Awards Dinner) kicked off the event with lauding the extraordinary public-private partnership reflected by the Raising the Bar in D.C. Campaign.
The capstone of the event were powerful remarks by Principal Deputy Assistant Attorney General Vanita Gupta, head of the Justice Department's Civil Rights Division. Ms. Gupta highlighted the profound justice gap in our capital (and throughout the country) and the pressing need for more civil legal aid:
Right here in this city, we know the profound challenges facing the most vulnerable among us. . . . We know that families living in poverty too often are having to choose between feeding their kids, paying their bills and heating the homes. . . . Our democracy is built upon the idea that the law – if applied fairly and impartially – can serve as a great equalizer and a powerful force for justice. . . . For people facing the reality of poverty day in and day out, however, the ideal of equal justice under the law feels distant, even out of reach. For those already living paycheck-to-paycheck, a single incident – whether a fine by a court, an eviction by a landlord or a default on a debt – can lead to a cycle of profound problems that ruin lives and tear apart families. . . .

 

Of course, this challenge of ensuring access to the law and access to justice extends well beyond this city and throughout our country. Roughly 63 million people qualify for free civil legal aid in the United States, but more than half of those who seek help find themselves turned away. Too many dedicated legal aid providers simply lack the funds and the lawyers to serve everyone in need. As members of the legal profession, each of us has a professional responsibility, and indeed a moral imperative, to address this challenge.
Similarly notable were the moving comments of D.C. Bar President Tim Webster, partner at Sidley Austin. Mr. Webster has been personally involved with helping low-income tenants with eviction cases through the Housing Right to Counsel Pilot Project, a new city-wide initiative by Legal Aid, Bread for the City, Legal Counsel for the Elderly, and the D.C. Bar Pro Bono Center. He has written about the project in the Washington Lawyer. In his remarks, Mr. Webster described the project's groundbreaking potential impact and offered a call to arms for more firms to participate:
What I see as so critically important about this project is the inter-relationship between stable housing and many other aspects of quality of life—from social, to mental health, to educational, to jobs. Tenants who become defendants in these cases face not only loss of their homes and displacement, but also loss of a critical housing subsidy without which many quickly spiral into homelessness and other problems.

 

This project is truly unique in the nation. The goal is to provide an opportunity for counsel in every subsidized housing case where a family is facing the loss of their home. . . . This is a bold experiment which requires a robust partnership between the legal services community and the private bar to see if our combined resources can ensure that every family facing eviction has an advocate by their side at that moment of terrible crisis. . . .

 

I hope we can all work to keep the momentum going. The next few months are critical in evaluating whether together we can generate sufficient resources in terms of attorneys and expertise to achieve this ambitious vision. We need to get attorneys trained and get them taking cases as quickly as possible. I hope you will commit to this important endeavor.
Legal Aid celebrates the success of this year's Raising the Bar in D.C. Campaign and applauds the generosity and leadership of the participating firms.