The Legal Aid Society of the District of Columbia is pleased to announce that we will be honoring Judith L. Lichtman with the Servant of Justice Award at the 30th Annual Servant of Justice Awards Dinner taking place on April 25th.
Judy's commitment, vision, and talent as an attorney and advocate have made a profound difference for women and families across the United States for more than 40 years. In 1974, Judy became Executive Director of the Women's Legal Defense Fund (name later changed to the National Partnership for Women & Families.) She stepped down as president in 2004, and is presently senior advisor at the National Partnership.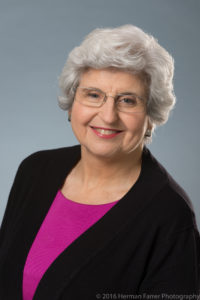 Founded as a small volunteer group, the National Partnership has grown into one of the country's most influential strategic forces, shaping national policy through its advocacy, lobbying, litigation, and public education. Judy's vision, in combination with the National Partnership's strength and direct leadership, has resulted in the passage of some of the most important legal protections for American women and families, including the Pregnancy Discrimination Act of 1978 and the Family and Medical Leave Act (FMLA) of 1993.
President Bill Clinton called Judy "a remarkable national treasure," and Senator Ted Kennedy nicknamed her "the 101st Senator."
Judy is the Chair of The Leadership Conference on Civil & Human Rights and received their Hubert H. Humphrey Award in 2000 for her contributions to the advancement of human and civil rights. She has also served on the boards of EMILY's List, Equal Justice Works, and the American Constitution Society for Law and Policy.
Vanita Gupta, President and CEO of The Leadership Conference on Civil and Human Rights, and a former Servant of Justice honoree, will be presenting the Servant of Justice Award to Judy at this year's dinner. The Servant of Justice Award recognizes individuals or organizations who have demonstrated faithful dedication and remarkable achievement in ensuring that all persons have equal and meaningful access to justice. Other past honorees include Abid Qureshi, Latham & Watkins; Thomas C. Papson, Volunteer Staff Attorney, Legal Aid Society of the District of Columbia; Donald B. Verrilli, Jr., former Solicitor General; Marian Wright Edelman, Founder of the Children's Defense Fund; and Eric H. Holder, Jr., former Attorney General.
Both individual tickets to the April 25th Dinner, as well as full tables, are still available. Please click here to buy tickets or reach out to Rob Pergament, Director of Development, at rpergament@legalaiddc.org for information about tables.