Yesterday, attorneys from Legal Aid's Public Benefits Unit – Jennifer Mezey, Andrew Patterson, and Hannah Weinberger-Divack – led a comprehensive pro bono training on handling Social Security disability benefits cases. The training was focused on representing Supplemental Security Income (SSI) and/or Social Security Disability Insurance (SSDI) claimants with their appeals at Administrative Law Judge (ALJ) hearings. The presenters covered a broad range of topics, including client counseling, building medical evidence, drafting a brief, preparing the client for the ALJ hearing, and working with child claimants and their families. The presenters also enacted a lively simulation of vocational expert testimony to better prepare pro bono attorneys for what to expect at hearings.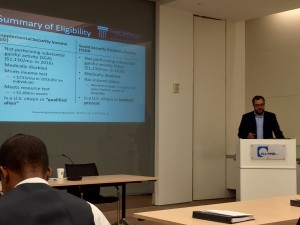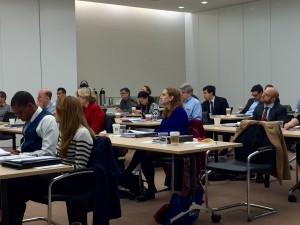 Thirty pro bono volunteers from 20 different law firms participated in the training. The attendees were engaged and asked a lot of great questions. Some of these pro bono attorneys are participants of the SPEED Project, while others are handling (or are interested in handling) SSI/SSDI hearing cases referred through Legal Aid's general pro bono program. The training was videotaped and will be available on probono.net/dc to reach even more pro bono advocates. Special thanks to DLA Piper for hosting and videotaping this training.
SSI/SSDI claimants who are referred to pro bono attorneys by Legal Aid have very little or no income and are unable to work due to serious physical and mental health ailments. With representation from pro bono counsel, many of these claimants are successful in securing benefits to which they are entitled. These benefits make a huge difference in the daily lives of these individuals and their families by helping them pay for basic expenses such as shelter, food, and transportation. Moreover, eligibility for these programs is tied to eligibility for Medicaid and Medicare, which can be crucial for accessing medical care.
We hope that this training has equipped more pro bono advocates across the city to help SSI/SSDI claimants secure these critical benefits and attain economic security.