Legal Aid Honors Four for Contributions to Access to Justice, Raises Record $1.3 Million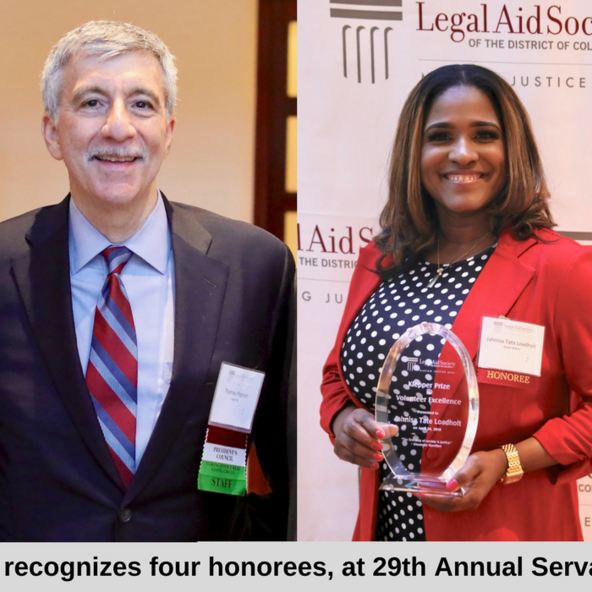 The Legal Aid Society of the District of Columbia honored four individuals for their contributions to access to justice at its 29th Annual Servant of Justice Awards Dinner last week, raising $1.3 million to provide legal assistance to persons in poverty in D.C.
"Legal Aid, you provide an opportunity for lawyers to use their skills to fight injustices where we see them, to right wrongs, to pay attention when others might turn away," said Abid Riaz Qureshi of Latham & Watkins, who received the Servant of Justice Award, and whose personal pro bono victories include a First Amendment case that allowed a Muslim-American film production company to display its comedic ads on the NYC subway system.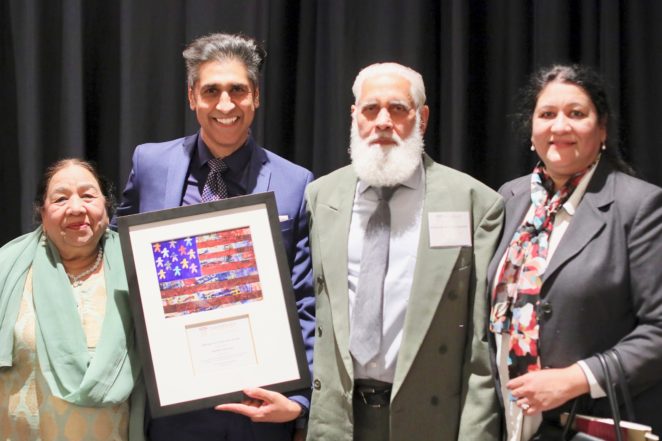 De Smith, Executive Director the NFL Players Association, introduced Mr. Qureshi, urging him to "Continue to be the person who is not willing to sit back and watch injustice. Continue to dissent."
More than 600 attorneys, judges, public officials, non-profit leaders, and philanthropists attended the Dinner, which was sponsored by nearly 90 law firms and corporations, including top sponsors Latham & Watkins, Kirkland & Ellis, and Venable.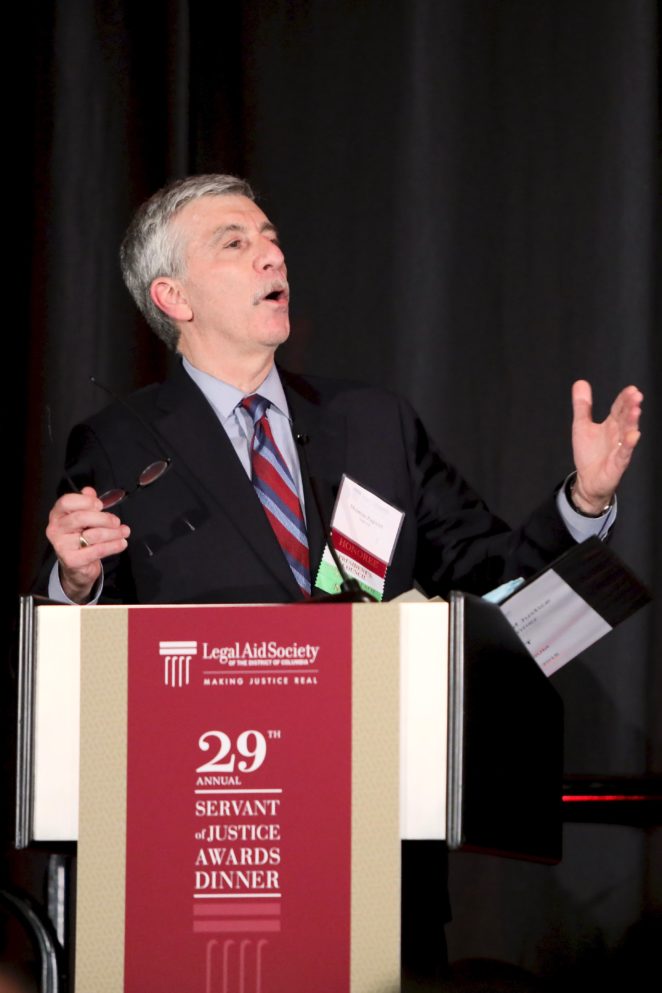 Legal Aid's work impacted more than 10,000 people in 2017, as its attorneys helped low-income clients facing legal challenges related to housing, domestic violence, public benefits, debt, and more. Thomas C. Papson, who joined Legal Aid as a Volunteer Staff Attorney in 2013 after three decades in private practice, also received the Servant of Justice Award. In his acceptance speech, he spoke about his colleagues at Legal Aid.
"To a person, they are superb lawyers who are passionate about the cause of social justice and equality of justice under the law," Mr. Papson said. "I marvel at the dedication and zealousness with which they provide representation and achieve outcomes that are often life changing for our clients."
Monica Jackson, President of the Terrace Manor Organized for Change Tenants Association, received the Partnership Award. Ms. Jackson led her fellow tenants in their fight against notorious landlord Sanford Capital, which had allowed the 61-unit Terrace Manor housing complex to deteriorate into unlivable conditions.
"The tenants of Terrace Manor were as organized, as committed, as united as any group of tenants I have ever seen," said Legal Aid supervising attorney Rachel Rintelmann, who helped the Terrace Manor tenants secure a $360,000 settlement from Sanford Capital and presented the award to Ms. Jackson.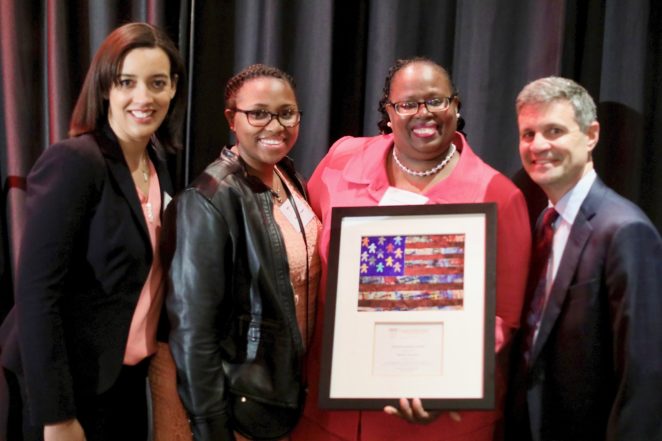 "Thank you to my neighbors, who stood strong, through years of struggle and intimidation," Ms. Jackson said in her speech, which was bookended by two extended standing ovations from the attendees. "It is on behalf of all of the brave tenants of Terrace Manor, including my sister and daughter who are here tonight, that I accept this award."
Jahnisa Tate Loadholt, Senior Associate at Alston & Bird, received the Klepper Prize for Pro Bono Excellence, and spoke about the impact her clients had on her life and career.
"I have had the pleasure of working with clients who thought I was helping, when, in actuality, they were helping me to become a better person, lawyer and advocate," Ms. Loadholt said.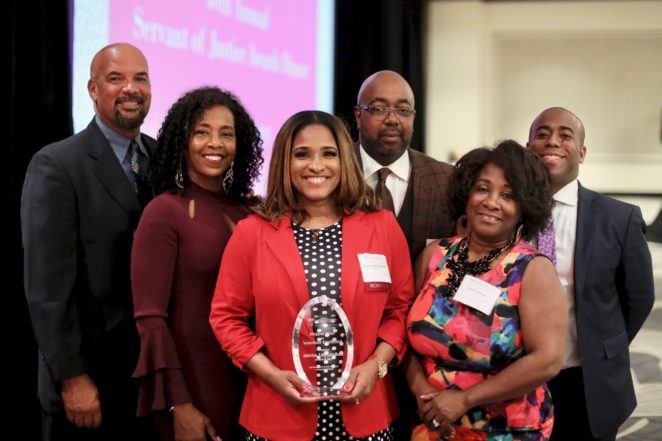 The record-breaking Dinner was co-chaired by Peter Thomas, Managing Partner of Simpson Thacher's D.C. office, and Joan McKown, Partner at Jones Day. Kenneth Klein, President of Legal Aid's Board of Trustees and Partner at Mayer Brown, presided over the evening.
Legal Aid's previous fundraising record for the Servant of Justice Awards came in 2017, when the organization raised just over $1.2 million, and honorees included Vanita Gupta, President and CEO of the Leadership Conference on Civil and Human Rights; and Donald B. Verrilli, Jr., former Solicitor General of the United States.
Check out more photos from the evening!