Last week, Legal Aid honored Groom Law Group with our Making Justice Real Pro Bono Award, recognizing the firm for its outstanding pro bono collaboration and service. Legal Aid's Executive Director Eric Angel and Jodi Feldman, who manages Legal Aid's Pro Bono Program, presented the award to Ed Meehan, Groom's Pro Bono Committee Chair, at a reception hosted by the firm.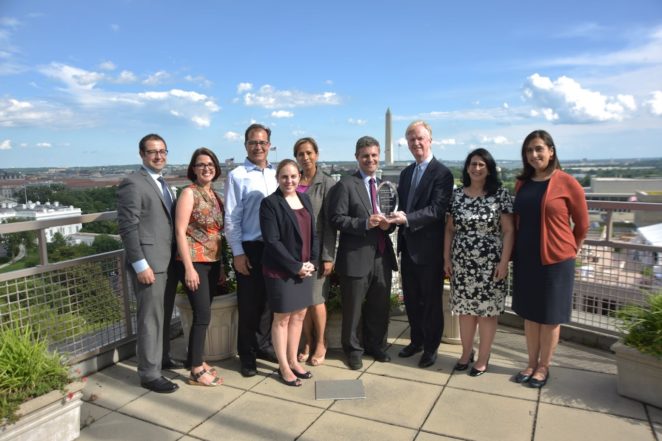 Pictured above (from left to right): Rob Pergament, Meridel Bulle-Vu, Michael Prame, Stephanie Westman, Nuvia Gomez, Eric Angel, Ed Meehan, Jodi Feldman, and Sylvia Soltis
In her remarks, Jodi commended the firm not only for the significant number of pro bono cases that Groom has taken on since forming a partnership with Legal Aid only 18 months ago, but also for the quality of representation Groom attorneys provide their pro bono clients. She reflected on the firm's accomplishments in the areas of family law and public benefits and noted that Groom attorneys, "consistently provide skilled, thoughtful zealous, creative, and potentially life-changing representation to [their] clients." In describing the impact that Groom attorneys have made for eight individual clients and their families in some of the cases they have resolved to date, Jodi acknowledged how things could have turned out very differently for these clients without the benefit of pro bono counsel.
"Pro bono work is a chance for our lawyers and staff not only to give back to the community, but to gain invaluable experience and perspective. It's an integral part of the firm culture," commented Ed Meehan, accepting the award on behalf of the firm.
Legal Aid is grateful for its pro bono partnership with Groom Law Group and for the commitment the firm has made to improve access to justice and help low income individuals and families in DC achieve stability, security, and the benefits to which they are entitled. The firm has truly made justice real for their pro bono clients.
"We are truly honored to receive this award and to have the opportunity to partner with Legal Aid to help those most in need," said Michael Prame, Managing Principal for Groom.
Legal Aid's Pro Bono Program greatly enhances our ability to make justice real by expanding our resources to serve more clients with the help of lawyers in private practice and government service. For more information or to learn about current pro bono opportunities, contact Jodi Feldman, Managing Attorney, at (202) 661-5965 or jfeldman@legalaiddc.org, or Sylvia Soltis, Staff Attorney, at (202) 386-6698 or ssoltis@legalaiddc.org.