Legal Aid is thrilled to honor Kristen Lejnieks, a partner at Jones Day, with our Making Justice Real Pro Bono Award.
Legal Aid's Making Justice Real Pro Bono Award recognizes attorneys who have provided outstanding pro bono service through individual representation and/or leadership in facilitating such representation by their colleagues.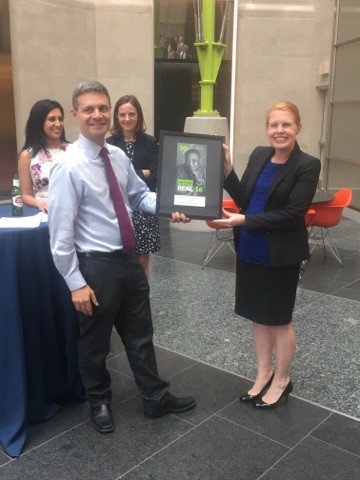 (Pictured: Legal Aid Executive Director, Eric Angel, presenting award to Kristen Lejnieks)
This past year, Kristen has set herself apart through her effective leadership as Jones Day's coordinator for the Housing Right to Counsel Project. Under Kristen's leadership, Jones Day's participation in the Project has soared. A number of Jones Day attorneys are now involved with the Project, helping many tenants avoid eviction and the terrible repercussions that follow.
From the get-go, Kristen demonstrated a genuine commitment to the Project's overarching goal of decreasing unnecessary evictions for tenants living in subsidized housing. She volunteered to coordinate recruiting, staffing, and mentoring for these cases within her firm. In addition to managing the Project, Kristen has personally worked on several Housing Right to Counsel cases. In fact, she obtained Jones Day's first victory in the Project when she helped a family that was formerly homeless keep their housing. Because of her advocacy, the landlord dismissed the eviction case and remediated a hazardous mold issue that had gone unaddressed for a long period of time.
Yesterday, Legal Aid had the pleasure of presenting this award to Kristen in front of her peers at a celebratory event held at Jones Day. Upon her acceptance, Kristen spoke of the hardships of being a poor and unrepresented tenant in Landlord-Tenant court and the continuing need for counsel for more low-income tenants facing the harsh possibility of eviction.
We applaud Kristen for helping to make justice real for more low-income residents in our community.