The 2019 Generous Associates Campaign kicked off with an inspiring reception at Kirkland & Ellis on Tuesday evening.
Joined by campaign coordinators, co-chairs, and Legal Aid staff, Honorary Chairs Susan Davies and Neil Eggleston gave rousing remarks to kick off what we hope will be another record-breaking campaign this summer.
Both Susan's and Neil's remarks had a common theme: While it is easy for us to be consumed and disheartened by major national headlines we see and hear about every day, there are equally important, life-changing issues right here in the heart of the Nation's Capital where we can make a difference.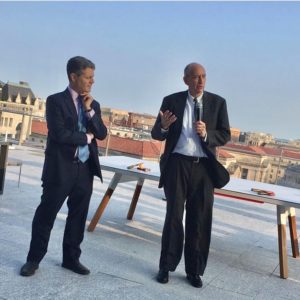 As Susan put it: "Legal Aid and the Generous Associates Campaign should remind all of us that the immediacy of individual service—making justice real—for one identifiable suffering person at a time is the highest and greatest calling for those of us who have the opportunity and the skills to use the law to make things better."
Far too many of our neighbors still live in poverty and do not have the means to get the legal assistance they need to make ends meet, or keep their homes and families safe and stable.
In her remarks, 2019 Campaign Co-Chair Sarah O'Connor from Williams & Connolly said, "Although the complex and intractable nature of the District's problems of inequality and injustice can leave us feeling like we as individuals can offer no more than mere 'drops in the bucket,' the Generous Associates Campaign demonstrates the power of our collective generosity to enable the dedicated and expert Legal Aid staff who have made a craft of tackling precisely those complex and seemingly intractable problems that overwhelm us individually."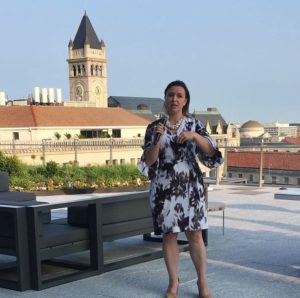 Executive Director Eric Angel thanked everyone for being part of this important campaign, which will raise nearly 30% of Legal Aid's budget this year if we reach our lofty $2.3 million goal. Every dollar given to this campaign matters because every dollar helps us make justice real for DC residents who cannot afford a lawyer.
This summer, if you are approached by an associate at your firm, please consider the difference you will make with just your donation.