On March 24, 2018, a group of Legal Aid attorneys gathered to attend the March for Our Lives. We were joined by a client and her three teenage children. After the March, our client's thirteen-year-old daughter, Jade, wrote about her experience, and how she is inspired to take action in her community.
Jade's mother came to Legal Aid for assistance obtaining a Civil Protection Order against her husband, who was showing signs of mental illness and threatening our client and their children. With Legal Aid by her side, she obtained a Civil Protection Order which grants her custody of the children, and orders no visitation for her husband. We are continuing to represent her in a divorce and custody case, which will go to trial in the coming months. Attorneys from Crowell & Moring LLP also generously agreed to assist our client when her husband filed outrageous civil claims against her.
Outside of court, our client is a dedicated and loving mother to her busy, active, passionate teenagers. We're all very proud of them, and hope Jade's words are as inspiring to others as they are to us!
* * *
My Reflection on the March for Our Lives Rally
Hello! My name is Jade and I'm a middle schooler in Washington, D.C.
On Saturday, March 24, I marched with my mom and brothers alongside several hundred-thousand people in the March for Our Lives rally in Downtown D.C. During and after the March, I was filled with so many emotions that I felt as though my head was bouncing all over the place. This was odd to me, because I went from not really being excited to attend, to feeling ashamed that I wasn't more involved, to being inspired, to crying. Finally, I realized that I too had a story to tell, and that maybe, just maybe, I was crying so much because out of every account that I heard in the other kids' speeches, there was something that was so real and relatable to my life and my experiences.
Before the March
To be honest, I wasn't excited about going to the March. At first, when my mom told me that I was going, I wasn't too fond of the idea and thought about all of the things that I'd rather do besides attending. I didn't think about how the March could affect me, my peers, or my family. I didn't consider that I'd see so many of my classmates, and didn't take time (prior to the March) to reflect on how gun violence (and all violence for that manner) has affected and changed my life. I guess I was just being a normal 13 year old, but seeing how excited my mom was about attending, I started to get a little intrigued, which led to bit of anticipation.
Arriving at the March
While riding to the March, we encountered hundreds of people with signs, matching t-shirts, and banners. It was a lot to take in and kind of overwhelming (I'm not a fan of crowds and sometimes affected by being in tight spaces). There were so many people, so many messages, but also so much togetherness and an air of peacefulness. I started to feel better and bit more relaxed. When I saw the posters that people held up, I started to get excited, and as I tried to read every single one, I started to reflect. I also started to feel ashamed. I should have prepared better, I should have made a sign, and I should have been the one excited about getting everyone together to attend the March. But in an instant, I was greeted with hugs and smiles, and thank goodness Ms. Jamie gave me sign. And with smiles, signs in hand, and feeling a part of something bigger than my fears, we joined the March.
At the March
There were so many quotes, slogans, and banners that all put this movement into perspective for me. As we headed down Pennsylvania Avenue, we ended up behind one man that had a quote on his shirt which read, "I don't need a gun to teach my students to aim higher." As soon as I saw that quote, I started to think about my teachers that show up every day to school, expecting just to teach the students (not be police officers and carry guns just to keep us safe - all while trying to do their job). I started to wonder where that teacher came from, and hoping that he wasn't one of the teachers who had to deal with anything like what happened at the Florida school shooting.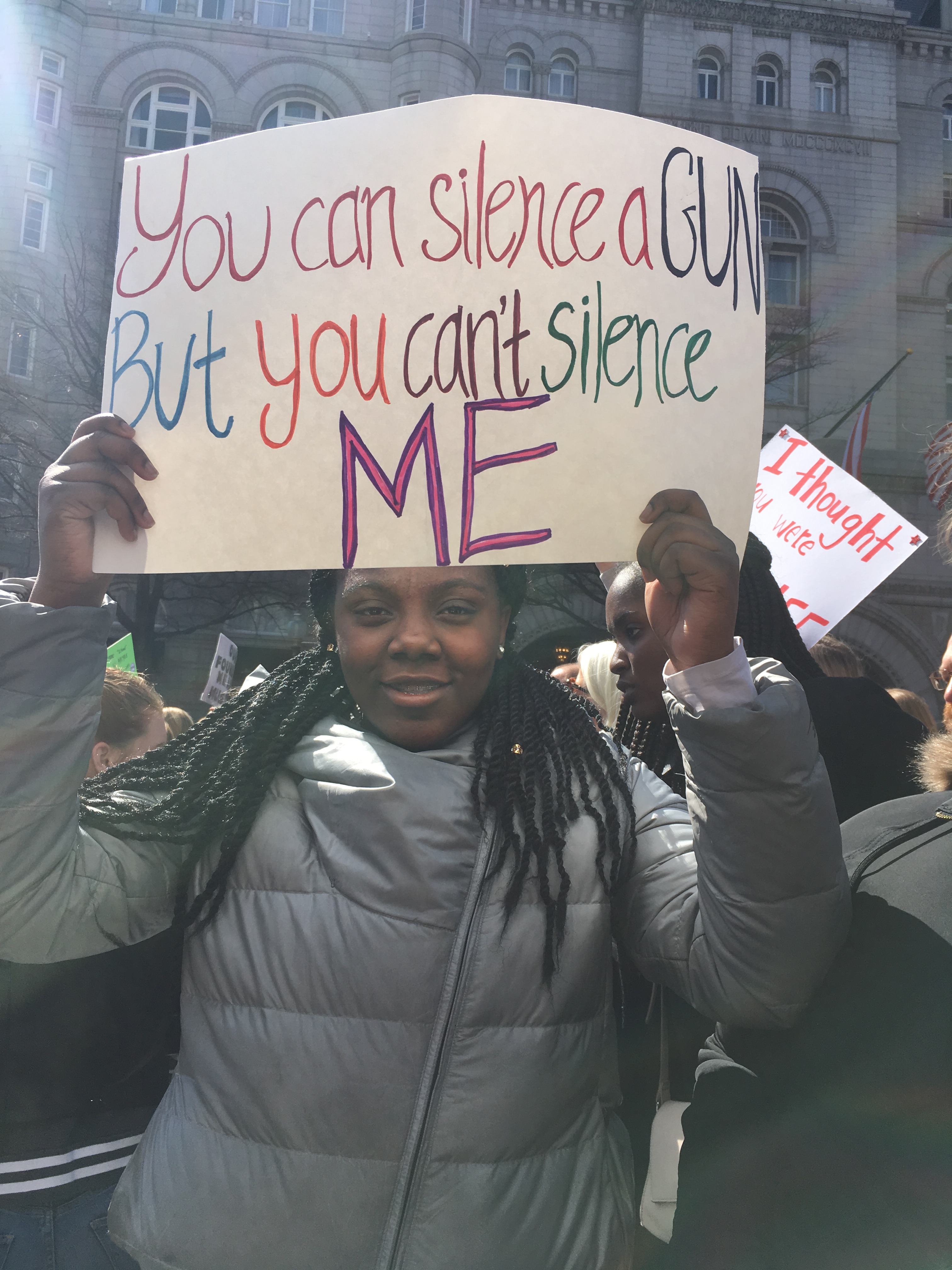 As my mind started to drift on all of the "what-ifs," large screens projected a countdown and Andra Day started to sing "Rise Up." As she hit every high note and sung the lyrics, I was overwhelmed with emotion. I felt a painful connection to everyone around me. I felt fear, I felt sadness, I felt disgust, and I felt outrage. I started to question where we go from here. I felt sorrow that we even have to march for lives as if they aren't valued. I also started to internalize how everyone in the school shootings felt, and ones that have lost a relative to street violence too. The song was followed by many speeches, including one from a girl who is 16 and lives in Chicago. She told a story about going to the grocery store for her mom. While she was in the checkout line, there was an angry man that didn't have enough money to pay for his groceries. That man pulled out a gun and pointed it to the head of the cashier. As soon as the little girl came out of the store, he put the gun to her head and threatened her. Well, on national television, she told her story and she wasn't afraid. At that moment, I felt so proud and so courageous. That speech, along with all the
others, empowered me.
After the March
I walked away from the March feeling that I should do something. I'm not sure exactly what I can do, but I'm going to start asking questions to find out. Something lit a spark in me and I realized that if I wanted change, I can't just sit back and pretend that nothing is wrong. My generation is the future and I have to do my part to protect it. When we got home, I asked my mom if they had rallies when she was a teen, and her response made me sad. She said that her generation was for the most part silenced and she thinks that's how everything got so out of hand. She said that protests and standing up for yourself skipped her generation, but that she feels proud that we're growing up in a generation that fights for a cause. I can't wait to go to school and talk about this experience. We need to talk more, we no longer need to feel silenced, and we need to stand up.
In conclusion, I think it was excellent that I went to this March. I even asked my mom if she was comfortable with me telling my story (because I have one as well). This all taught me how to use my voice, to speak up for the challenges that I've been going through, and gave me the courage to try and make things better. I am the future. I'm our future! So let's MARCH FOR OUR LIVES and do whatever we can so that our future is a better, brighter place.