It should never have come to it in the first place, but this morning's dramatic vote in the Senate ensures that the Affordable Care Act expansion of coverage to millions of Americans will continue.  And millions of those Americans get this coverage through Medicaid which will celebrate its 52nd anniversary on Sunday.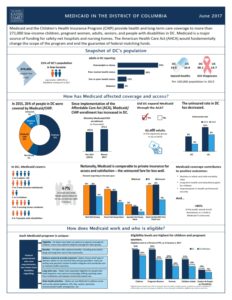 There is no doubt that if the Senate had not rejected the "skinny repeal" of the Affordable Care Act, the Medicaid program would have been devastated.  Both the original bill proposed by the Senate and the bill passed by the House of Representatives would have led to the dismantling of the program.
Approximately one-quarter of all District residents – and one-half of all children in the District – rely on Medicaid, including the vast majority of Legal Aid's clients.  While Legal Aid will continue its advocacy with the District to improve implementation of the Medicaid program, we will also continue to give the District enormous credit for expanding Medicaid to include all otherwise eligible adults under 200 percent of poverty and all children under 300 percent of poverty.  As a result, the District has one of the lowest uninsurance rates in the country – about 4% overall.  Had any of the proposed pieces of legislation passed, the District would have faced impossible decisions about how to maintain coverage for all of these families and individuals without sufficient federal funds.
Of course, Legal Aid and our local and national partner organizations have a lot more work to do to defend Medicaid and improve the Affordable Care Act.  But for now, all of Legal Aid's clients who rely on Medicaid to pay for their chemotherapy, prescription drugs, dental care, home health care, and their children's immunizations can breathe a sigh of relief.
 
(Header photo credit: DC Health Link)