Vikram Swaruup Named Legal Aid's New Executive Director
Legal Aid is thrilled to announce that Vikram Swaruup will be the organization's new Executive Director.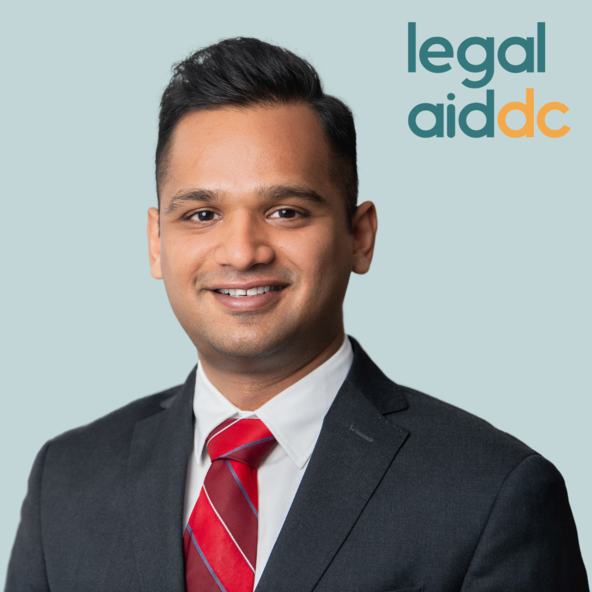 Correction: An earlier version noted that Vikram would be the first person of color to permanently lead Legal Aid. After posting, we learned that this was incorrect, and that Dacosta Mason, a Black man, served as Executive Director from 1974 to 1987.
Legal Aid is thrilled to announce that Vikram Swaruup will be the organization's new Executive Director.
Vikram currently serves as the Chief Deputy Attorney General for the District of Columbia, the second-highest ranking official in the office of Attorney General Karl Racine, whose term ends on January 2, 2023. He will take the helm of Legal Aid on February 27, 2023.
"Vikram has dedicated his career to promoting justice and fairness across the District, particularly for people and families in most need of support. His work at the Office of the Attorney General helped him develop a keen understanding of the strengths of members of Legal Aid's client community as well as the challenges they face," said Joan McKown, President of Legal Aid's Board of Trustees. "Legal Aid is bigger and stronger than ever before, and we are confident that Vikram is the right leader for this moment."
"Legal Aid is one of the most important institutions working to make sure all District residents are treated fairly in our legal system, and I could not be more grateful to the Board for this tremendous honor," Vikram said. "I'm honored to be joining a top-notch team that is on the frontlines of fighting for District residents."
As Chief Deputy Attorney General, Swaruup is responsible for overseeing the Office's staff of nearly 700 people and budget of more than $150 million. He is the third person to serve in this role under Attorney General Racine.
The Office of the Attorney General and Legal Aid have worked closely together on a range of issues, including tenant and consumer protection matters.
"Vikram is a rising star and tireless advocate for making the District of Columbia a fairer and more just city," said Attorney General Racine. "Vikram has dedicated his career to using the law to serve vulnerable people, and he has played a key role in making the Office of the Attorney General for the District of Columbia the best in the country. I'm proud that Vikram will continue playing a leading role advocating for justice in the District. The Office of Attorney General's loss is Legal Aid's gain. The District of Columbia is fortunate to have a person of Vikram's intelligence, compassion, and proven ability to lead fighting for our most vulnerable residents."
Vikram previously worked as a civil rights lawyer, helping to start the D.C. Attorney General Office's Civil Rights Section. In that role, Swaruup was a lead attorney on a successful 2020 lawsuit challenging the federal government's efforts to kick hundreds of thousands of Americans off of food stamps – a case in which he worked with Legal Aid, which represented individual District residents who would have been impacted.
Before joining the Attorney General's Office, Vikram was an appellate attorney in the U.S. Department of Justice's Civil Rights Division, where he defended the constitutionality of the Matthew Shepard-James Byrd Hate Crimes Prevention Act. He clerked for Judge Mary M. Schroeder of the U.S. Court of Appeals for the Ninth Circuit and Judge Lucy H. Koh who at the time served on the U.S. District Court for the Northern District of California (and now serves on the Ninth Circuit as well).
Vikram will be the first openly LGBTQ+ person to permanently lead Legal Aid. His family immigrated to the United States from India during his childhood.
Vikram will be Legal Aid's first new executive director in ten years. His appointment follows an extensive search process that began in March 2022, when former Executive Director Eric Angel announced his resignation after 20 years of work at Legal Aid, including ten as Executive Director. Interim Co-Executive Directors Jennifer Mezey, Rachel Rintelmann, and Stephanie Troyer will return to their roles as Legal Directors when Vikram starts in February 2023.
"Legal Aid is lucky to have great leadership in Jennifer, Rachel, and Stephanie, and I'm grateful for all their work over the last two years" Joan said. "The months and years to come will be a crucial time for the District, and, with Vikram on board and a strong leadership team around him, we are incredibly optimistic about Legal Aid's ability to meet the challenges ahead."
Vikram's appointment was covered today in The Washington Post.