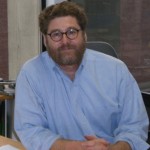 Every year, the American Bar Association and the National Legal Aid and Defenders Association hold the Equal Justice Conference.   The conference is a gathering of advocates and pro bono lawyers.   More than 800 people are registered this year.   I was among them.   I have decided not to attend because the meeting is being held in Phoenix Arizona.
Arizona recently enacted anti-immigrant legislation that allows police to stop and harass people solely because of the color of their skin, their accent or their dress.   Many opposed to the law have called for a boycott of the State as a way to express outrage and to put economic pressure on the legislature.    In good conscience, I could not violate the boycott.
The following is a statement of District equal justice advocates that I have joined.
The Equal Justice Conference is scheduled to begin in Phoenix Arizona on May 13, 2010.  On May 3, the National Legal Aid and Defender Association (NLADA) Board of Directors voted to withdraw NLADA's sponsorship of the conference in light of the abhorrent anti-immigrant law recently enacted in Arizona.   As a group of advocates from the District of Columbia, we applaud NLADA for its decision.  For those of us who had registered for the conference, we have decided that, in light of the new law and the calls for a boycott of the State, that we cannot attend the conference.
There are well respected advocates who have called for people to attend the conference and participate in discussion and protest.   While people of good will can disagree on the best strategy to oppose the Arizona law, we ultimately found these arguments unavailing.   We believe that our decision to stay away from the conference says much more than any protest that might be mounted at the conference.
This decision is not without a cost.   Many people have invested hundreds of hours in organizing an agenda designed to increase access to justice for communities living in poverty.   The training, networking and cross program fertilization that is the hallmark of the conference will be lost.   But the price of our attendance would be higher.   It would send the statement that our opposition to the racist and discriminatory law was not so great that we would stay away.
For those who choose to join us, we urge you to take some of the time you would have spent at the conference to protest the Arizona law.   You should write to the Governor and explain why you did not travel to her state, write to your congressional delegation urging quick action on national immigration legislation that respects the dignity of all human beings and join one of the many marches or rallies being held in communities across the country.
Jennifer Berger
Michelle Bonner
Shelley Broderick
April Frazier
Hannah Lieberman
Karen Minatelli
Robin Murphy
Jonathan Smith
 **********
 PS:  NLADA has taken a huge financial hit for its courageous stand.  If you can help, please go to:  http://www.justice4all.org and follow the link to support NLADA.