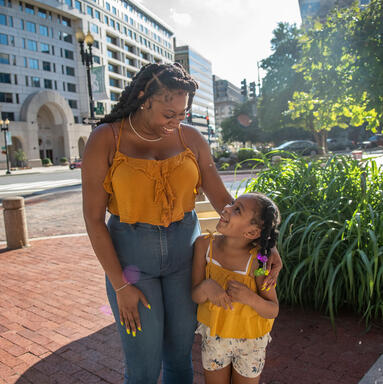 Anita Gans initially came to the Domestic Violence Intake Center seeking help in obtaining a Civil Protection Order (CPO) against her ex-boyfriend, whom we will call Mr. Miller (name changed), alleging multiple counts of relentless stalking behavior. After breaking up, Mr. Miller sent Ms. Gans disturbing emails, showed up multiple times to her family's home without permission, and discovered her place of employment by following her to the day care center where she worked. He then appeared multiple times at the day care center, causing Ms. Gans to get fired. 
"I was in a custody battle and needed a protection order because I was being stalked," Ms. Gans said. "I felt relieved that I was about to connect with someone to get help with the situations."
After a two-day trial, the CPO Judge found that Mr. Miller had stalked Ms. Gans on several occasions with the intent to cause her fear, alarm, and emotional distress. The judge granted Ms. Gans a CPO and temporary custody of her child.   
Mr. Miller also filed a custody case against Ms. Gans. While the case was pending, Mr. Miller kidnapped their daughter to a different jurisdiction during a daytime visit.  After litigating the custody case for two years, Legal Aid helped Ms. Gans obtain sole custody of their daughter in an order that made detailed findings against Mr. Miller. He was restricted to visitation at the Court's Supervised Visitation Center and was also ordered to pay both future and retroactive child support. Upon learning that she had won sole custody of her daughter at last, Ms. Gans said she was, "overjoyed and relieved at the same time." 
"Legal Aid is very helpful and professional," Ms. Gans said. "They really make sure they take care of the people they are working with in each case."