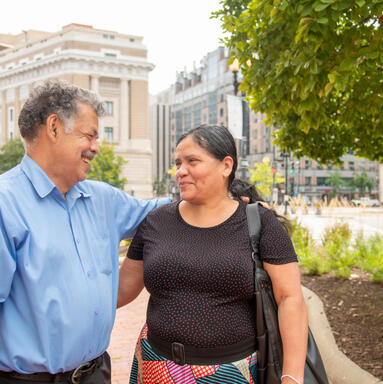 Mr. Salamanca and Ms. Garcia de Salamanca began working with Legal Aid in March 2021 after Legal Aid identified them through targeted outreach as former clients that might be eligible for the District's recently reopened HomeSaver program. The HomeSaver program is a foreclosure prevention program that provides payment assistance to eligible DC homeowners who are behind on their mortgage or other housing-related payments. 
The Salamancas, two monolingual Spanish-speaking homeowners, were severely impacted by the pandemic. Ms. Garcia de Salamanca was laid off from her job of almost 30 years as a housekeeper at a hotel in Dupont Circle at the start of the pandemic. Mr. Salamanca was retired and receiving modest Social Security Retirement benefits. Although Ms. Garcia de Salamanca was receiving unemployment insurance, their income was substantially reduced without her employment income. The couple managed to keep up with their mortgage payments for months, but they depleted their savings as a result. When they connected with Legal Aid attorney Jenny Joseph, they were about to default on their mortgage payments. 
Jenny worked with the Salamancas to prepare an application for the HomeSaver program, a process that would have been difficult if not impossible for the Salamancas to complete on their own as the District's application was only available in English, and submitting the required documentation was a challenge for homeowners who had limited access to technology. With Legal Aid's assistance, the Salamancas were approved for HomeSaver funds to cover their mortgage payments, an immense relief for the family.  
"I thank God that I found Jenny and that she—with great specialty knowledge—resolved this case, that she could help me, you know, and relieve that pressure I was feeling when I felt that I could lose my house," Mr. Salamanca said.