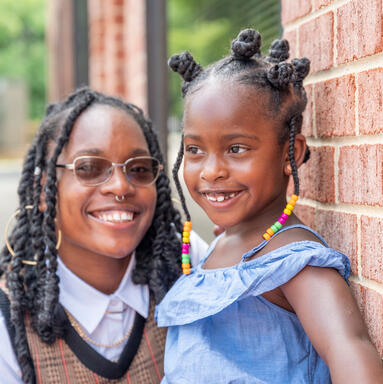 Debra Moore came to Legal Aid after losing custody of her five-year-old daughter, Raelin. For Raelin's entire life, she had lived with Ms. Moore and visited her father on weekends, but in August of 2021, two stray bullets came through Ms. Moore's window. Ms. Moore contacted the police and asked Raelin's paternal grandmother to watch her for a few days as she dealt with repairing the damage. Raelin's grandmother took her to stay with her father. Ms. Moore's intention was that Raelin would then return to her care after a few days.  
Raelin's father filed for sole custody, asking the Court to drastically alter the informal custody arrangement that their daughter had for her entire life. Initially, the judge agreed and only allowed Ms. Moore to have very limited visitation with her daughter, stating that she was concerned with Raelin's safety if she went back to live with Ms. Moore. She also appointed guardian ad litems (GALs) to investigate the case.  
Ms. Moore knew of Legal Aid from a previous housing issue and reached out to see if we could assist her in this situation, and attorney Melanie Sandler took the case. Over a period of eight months, Melanie helped advocate for Raelin and Ms. Moore to be reunited, arguing that Ms. Moore was not responsible for the stray bullet incident, and that she had done everything she could to keep Raelin safe.  
"What really impacted me was the time I spent away from my child," Ms. Moore said. "But I had a team behind me. And Melanie was the line leader of everything." 
After a thorough investigation by the GALs, the judge ordered that Raelin would live with Ms. Moore full time again, and gave visitation to Raelin's father, which was very similar to the informal arrangements the parents had before. The judge denied Raelin's father's request for sole custody. 
"She always kept me up to date, she always kept me informed....like I said, I love her," Ms. Moore said. "She's just a great attorney. I thank her time and time again for bringing my daughter back home."