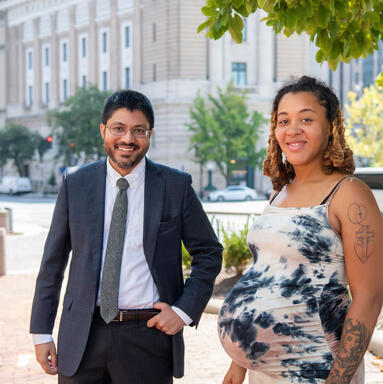 Maria Johnson* connected with Legal Aid attorney Rais Akbar through the Landlord and Tenant Legal Assistance Network. Ms. Johnson is a mother raising three children, ranging in age from three to six. Just before the pandemic, in March 2020, her landlord sued her for eviction alleging nonpayment of rent. Like so many of our clients, Ms. Johnson was living with uninhabitable housing conditions that her landlord would not repair, including a rodent and roach infestation.  
"He fought for the best outcome for me and actually got the situation sealed within the courthouse so I'm able to go apply for other apartments and houses now without that judgment held against me," Ms. Johnson said.
After many pandemic-related delays, Ms. Johnson's case began to move forward. Rais immediately filed a Motion to Dismiss the case, arguing that Ms. Johnson was not properly served. He also advised her to apply for STAY DC, the District's new rental assistance program funded by federal COVID relief money. Before the Motion to Dismiss could be decided, Ms. Johnson was awarded nearly $20,000 in rental assistance. The landlord's attorney agreed that STAY DC covered Ms. Johnson's balance and dismissed the case. Because the case was dismissed, it was subsequently sealed, which will aid Ms. Johnson in her goal to ultimately move – a process that is often made harder when a tenant has a publicly-available eviction case record.
"I like the fact that [Rais] actually took the time to actually show that he cared about working with me on my case and when he was working with me, I was his only priority," Ms. Johnson said.