In one week, on Thursday, April 28, 2016, Legal Aid will present our highest honor – the Servant of Justice Award – to Thomas S. Williamson, Jr. of Covington & Burling LLP. This award will be presented by Covington's Eric H. Holder, Jr.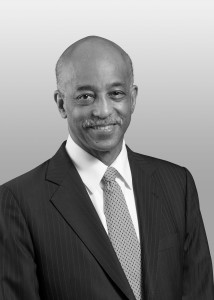 Tom Williamson is a senior counsel at Covington & Burling. His areas of expertise include employment law, complex litigation, and health and welfare law matters for state governments.
Mr. Williamson was the Solicitor of Labor at the U.S. Department of Labor from 1993 to 1996. He served as Deputy Inspector General for the then-newly formed U.S. Department of Energy from 1978 to 1981. In 2003 he played a key role in developing the National Football League's "Rooney Rule," designed to promote increased opportunities for minorities to become head coaches in the NFL.
From his early years, Mr. Williamson has been a pro bono leader. Early in his career, he served for eight months as a legal services attorney for the Neighborhood Legal Services Program. In 1997 and 1998 he led a team of Covington litigators before the District Court of Hawaii and the Ninth Circuit defending a constitutional challenge to various restrictive regulations that had been adopted by the Legal Services Corporation (LSC). The leadership of LSC credited Covington's defense of the regulations with sparing LSC from a total cutoff of Congressional funding.
More recently, Mr. Williamson headed a team that assisted in the defense of the District's same sex marriage law. He has also worked on race and disability discrimination class actions, the most significant being a nationwide class action to obtain dramatic improvements in American Sign Language interpreter services for thousands of deaf employees of the U.S. Postal Service and $3.5 million in compensatory damages. In 2007, the Washington Lawyers' Committee for Civil Rights and Urban Affairs recognized Mr. Williamson with its Wiley Branton Award.
Mr. Williamson held office as President of the DC Bar from 2012 – 2013. He has also served on the board of the D.C. Bar Foundation and on the D.C. Judicial Nominations Commission. He is deeply committed to the role that lawyers can play to advance justice and fairness for the most needy. One of his principal goals as Bar president was supporting legal services for those who cannot afford them. As a current Commissioner on the D.C. Access to Justice Commission, he continues to make expanding access to justice a core part of his personal and professional identity.
Tom Williamson is married to Shelley Brazier, and they have three children.
Please join us on April 28, 2016 – individual tickets are still available – to honor Tom Williamson, as well as his fellow Servant of Justice Honoree, Marian Wright Edelman, Founder and President of the Children's Defense Fund, and Klepper Prize winner, Brendan Carroll of Alston & Bird LLP.
2016 Servant of Justice Awards Dinner E-vite: