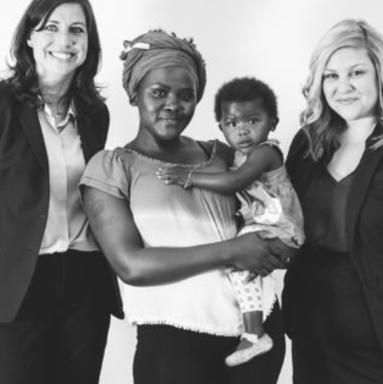 "if not for legal aid, I could be dead."
Ana Mwangi* felt trapped in the wrong life. With her newborn daughter, Eva*, swaddled on her back, her abusive ex-boyfriend held her at gunpoint and sexually assaulted her. As an immigrant from Kenya, Ms. Mwangi was scared to go to court, but she could not risk her or her daughter's safety any longer.
When she went to the Domestic Violence Intake Center in Southeast DC, Legal Aid Family Law Unit attorney Jamie Sparano helped her secure a Civil Protection Order (CPO) which ensured that her ex-boyfriend could not threaten, contact, or assault her or Eva.
To truly be independent, though, Ms. Mwangi needed more economic security. Carolyn Rumer, a staff attorney in our Public Benefits Law Unit, stepped in. Carolyn helped Ms. Mwangi obtain emergency food stamps after the District originally denied her application, as well as health insurance and cash assistance (TANF).
She is pulling her life together, focusing on providing opportunities for Eva's future.