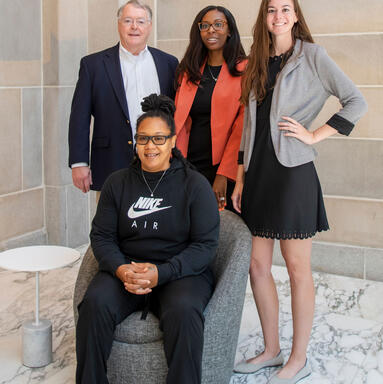 Lakeshia Battle sought sole physical and legal custody of her young daughter, Kiley*, after a series of troubling behaviors by Kiley's father, Damien Johnson*. On one occasion, school administrators had to forcibly escort Mr. Johnson off the school grounds when he tried to remove Kiley from school without Ms. Battle's permission. Ms. Battle's request for sole physical and legal custody was denied, in large part because the judge believed that Ms. Battle falsified letters from school officials describing incidents involving Mr. Johnson.
Once Ms. Battle was able to connect with Legal Aid, her case was referred to Legal Aid Board Member John McCarthy and his Crowell & Moring colleagues Chalana Damron and Emily Tucker, who immediately got to work on helping Ms. Battle. The Crowell team was able to verify that school officials in fact wrote the letters and help right the trajectory of the case.
"We ended up in court, thanks to John, Emily and Chalana – all of the three of them jumped in and supported me on this emotional rollercoaster to do the right thing for the child," Ms. Battle said. "That was what it all boiled down to."
Ms. Battle expressed that she wanted Kiley to have a positive relationship with her father but was concerned about sharing custody because of Mr. Johnson's history of angry outbursts. Working with Mr. Johnson's attorney, the Crowell team crafted a settlement proposal that focused on mending the relationship between Mr. Johnson and Kiley while ensuring that mechanisms were in place to protect Kiley and empower Ms. Battle to act if Kiley's safety or wellbeing was compromised by Mr. Johnson's actions.
After negotiations with Mr. Johnson's counsel, the Crowell team finalized a settlement that allowed Ms. Battle to maintain primary physical custody of Kiley.
It also made the additional day of custodial time that Mr. Johnson was seeking contingent upon active participation in family therapy, the completion of a co-parenting class, and a clean drug test. The terms of the settlement also ensured that Kiley would remain enrolled at her current school so that she would have a consistent and stable educational environment.
"They have been tremendous – 'TREMENDOUS' if that can be captured in all caps," Ms. Battle said.