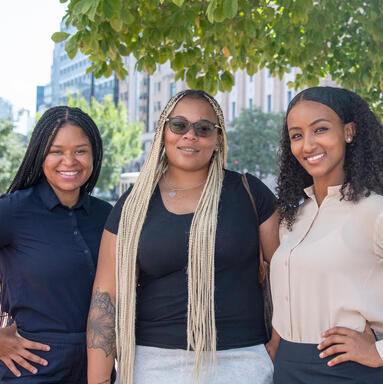 In July 2021, Shanita Womack called the DC Debt Collection Defense Hotline after she had been sued by a national insurance company for over $11,000 in an auto subrogation case for a car that was involved in a hit and run. This was surprising to her because she did not recall being involved in an accident. 
Ms. Womack first learned that she was being sued when she received notice from the court about an ex parte proof hearing, after a default had already been entered against her. She sought Legal Aid's assistance because she was never served, did not receive notice of the prior hearing where a default was entered against her, and did not know how to defend herself. The process server claimed to have served an adult that was living at her house, but Ms. Womack did not recognize the name of the person the process server claimed to have served. The only adult living with Ms. Womack at the time was her mother. 
"This issue was one of my biggest worries, about it being on my background, and now that it's gone it's a big relief," Ms. Womack said. "I had a good feeling after talking to my attorney. She made me feel better because I was discouraged before I had started."
After coming to Legal Aid, Ms. Womack began working with Legal Aid attorneys Zenia Laws and Sudi Tasissa. As they were working to help her challenge the claim that she had been served and vacate the default entered against her, they discovered that Ms. Womack was not the owner or even the driver of the car that was involved in the hit and run. Although Ms. Womack once owned the car in question, the accident she was being sued for took place in May 2017, and she had sold the car approximately three years earlier.  
Ms. Womack's only connection to the 2017 accident was that the car was last registered in her name. However, this registration expired in 2014, long before the accident. With Legal Aid's assistance, the insurance company agreed to vacate the default entered against her and dismiss the case with prejudice.