Legal Aid's Student Internship Program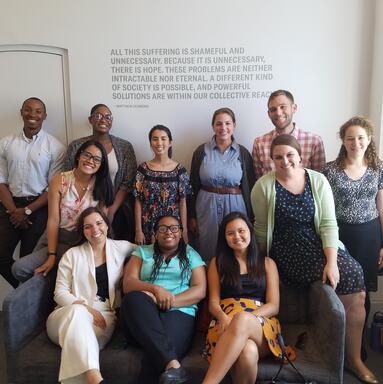 Legal Aid has academic year (fall and spring semester) as well as summer internship opportunities for law and undergraduate students. Summer interns are expected to work full time for a minimum of 10 1/2 weeks. Academic year interns are expected to work a minimum of 12 hours per week, to be arranged according to their class schedules, but are welcome to work more hours or full time for the semester if available to do so. While Legal Aid's internships are generally unfunded, full time summer interns can apply for funding through Legal Aid's Lee Horton Memorial Scholarship for Aspiring Public Interest Lawyers, which may provide a stipend to help cover living and other expenses during the internship. Students interested in learning more about the Lee Horton Scholarship should express interest in their cover email or letter.
Law Student Interns
Law student interns are assigned to one of Legal Aid's substantive practice areas or to the Barbara McDowell Appellate Advocacy Project and should express an area(s) of interest in their cover letter when submitting their application.
Law student interns working in Legal Aid's substantive practice areas assist attorneys in representing clients in proceedings in D.C. Superior Court and before public agencies. Interns have the opportunity to interact with clients and may attend client meetings, hearings, trials, and administrative proceedings. They also may help staff our housing, consumer, and family law court-based projects. Assignments will include legal research, drafting legal documents and memoranda, and factual investigation.
Law student interns working in the Appellate Advocacy Project will engage in substantial research and writing projects in connection with appeals in which Legal Aid is participating (either by representing a party or as amicus) or potential appeals that Legal Aid is evaluating. Interns will also participate in moot courts and observe oral arguments.
Undergraduate Student Interns
Undergraduate student interns assist Legal Aid staff in representing individuals and families in adversarial proceedings in D.C. Superior Court and before a variety of public agencies. Undergraduate interns are not assigned to a substantive unit/practice area. Undergraduate intern responsibilities include answering telephone inquiries from persons seeking legal assistance; filing and retrieving court documents; greeting potential clients who come to Legal Aid for assistance; serving subpoenas; reviewing and organizing legal files; drafting correspondence; and summarizing intake interviews. Interns participate in internal meetings and are responsible for some administrative duties. Interns also may have the opportunity to conduct factual research and investigations, attend client meetings, and observe hearings and trials.
To Apply for an Internship
To apply for an internship position, please email a cover letter, resume, writing sample and proof of matriculation (e.g. unofficial transcript, matriculation letter, etc.) addressed to Kareine Johnson, Senior Staff Attorney, to intern@legalaiddc.org.  
Please note that positions are open until filled (please see the top of this page for our current hiring status). Additionally, because of the volume of applications that we typically receive, we regret that we will only be able to contact those candidates whom we would like to invite to participate in an interview. When you submit your application, you should receive an auto-response indicating that it has been received. Please do not send follow-up email messages or contact us by phone to inquire about your application. Thank you for your interest.